Sometimes, the physiological changes associated with maturation take unexpected turns, some with its their own rewards. Eyesight in the evenings without eyeglasses often means  general shape recognition rather than a high resolution view of the world. Last night, I encountered a large black and green beetle parked on the kitchen peninsula and gave it a smack down from the palm of my hand… Crushed pistachio nut… Tasted good. Now, with my eyeglasses on…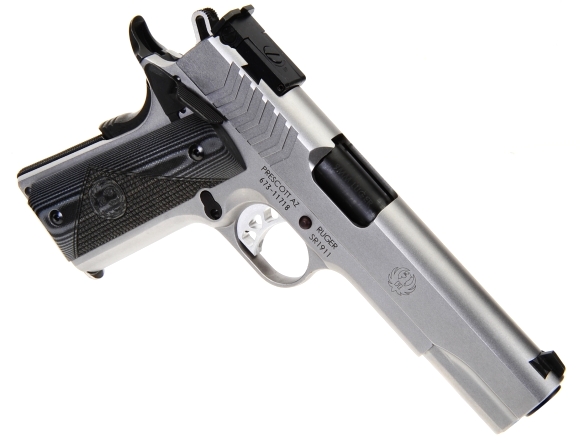 To many, the 1911 design evokes a sense of nostalgia, but it also represents a great deal of familiarity and opportunity. One to another, disassembly is the same with minor exception, popular performance improvement modifications are very similar and there is an almost limitless supply of aftermarket parts where pistol manufacturers do no stray too far from standard part and assembly dimensions. The Ruger SR1911 certainly fits that profile.
The aluminum frame SR911 Lightweight Commander in 9mm Luger was previously covered on Real Guns, however, the full size target model is significantly different; 29.0 ounces total weight versus 40.9 ounces, 4.25″ barrel versus 5″, fixed sights versus target sights, and quite different balance and performance. Two different pistols, perhaps two different applications, required representation.
Ruger Model
SR1911 Target
Company
Ruger
Model #
6759
Manufacture
Prescott, AZ
Type Action
Single Action
Slide
Stainless Steel
Finish – Barrel/Side
Low Glare
Frame
Stainless Steel
Caliber
9mm Luger

Capacity
9+1
Barrel Length
5.0"
Twist
1:10″ RH
Weight – Empty
41.9 oz
Overall Length
8.67″
Overall Height
5.45″
Sights – Rear
Adj W/E Serrated Face
Sight – Front
Black – Drift Adjustable
Sight Radius
6.85"
Trigger Pull
4 lbs 5 oz (Actual)
MSRP
$1019
Includes: Display box, 2 Magazines
gun lock, and manual
The Ruger SR1911was introduced in 2011 as a full size, Series 70 fixed sight 45 Automatic. Coincidentally, the year was also the hundredth year anniversary of the John Browning design. Relying on excellent American manufacturing technology, quality assembly and a reputation for holding customers in high regard, Ruger entered a crowded market place and found acceptance.
There are now fourteen model designations, offered in 9mm Luger, 10mm Auto and 45 Caliber. There are configurations for self defense and target shooting applications in Officers, Commander and Standard lengths. Some model frames are steel and others are aluminum. Is there room for more? Sure. I would lobby for a 6″ 10mm Auto and one Commander length all steel 38 Super.
If the picture of the SR1911 being painted is positive that is intended and earned. Working extensively with them, in every caliber and in numerous configurations, the results led me to purchase one for personal protection and to serve as the foundation for a series of articles addressing 1911 type enhancements.
Performing well in stock form, the SR1911 has responded well to finesse modifications and I have not encountered an after market performance enhancing part that did not slip into place or require minimal fitting when designated by the component manufacturer as "Requires gunsmith fitting".
Working down the table boxes
All Ruger SR1911 pistols are manufacturer in Prescott, AZ, assembled from Ruger manufactured parts and American labor. All Ruger SR1911 pistols are single action, Series 70 design with lock time reducing light hammer and Titanium firing pin for reduced lock time and lightweight trigger to reduce the likelihood of trigger bounce. There is no firing pin plunger to hang up or no add on linkage to complicate the trigger system.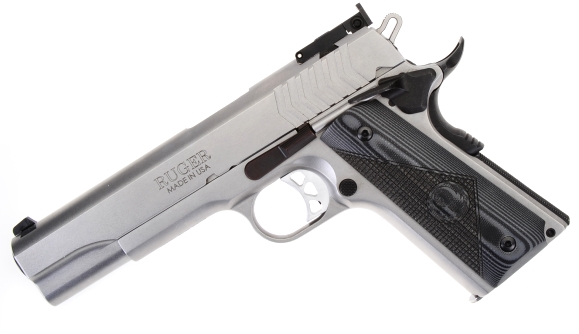 If you check firearm related social media you will read that none of this finessing matters. I particularly like when they put a numerical value to reduced hammer lock time to create the appearance of scientific conclusion. Interesting, as not knowing the weight of the hammer or recoil, sear and mainspring rates it would not be possible to calculate. So I have to assume the same naysayer logic applies to improved triggers, precision fit barrel bushings and barrel links, etc. My un-evolved, old guy approach has been to try each modification and check targets rather than check in with social media.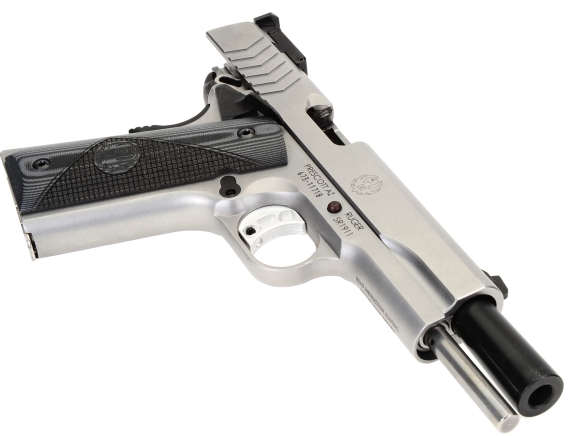 The Ruger SR1911 target 9mm barrel length, form and assembly are quite different from the SR1911 Lightweight Commander. The Lightweight Commander has a conventional barrel profile, barrel bushing and guide rod. The Target version has a bull barrel profile, no barrel bushing and a captive spring, full length guide rod.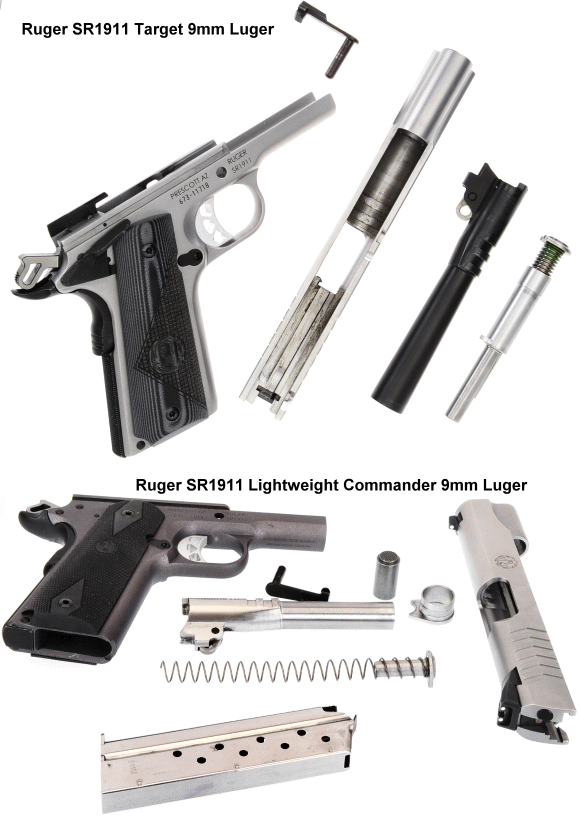 Both models have a ramped barrel to pick up the nose of the low striking 9mm Luger cartridge as it feeds from the magazine. The Lightweight has a titanium frame insert, just below the chamber and at the top of the magazine well which, I believe, is an accommodation for the 45 Auto SR1911 Lightweight that does not have, not does it require, a ramped barrel.
SR1911 Target 9mm above the SR1911 Lightweight Commander – The Target version has a black faced front sight and 1″ per click at 25 yards windage or elevation adjustment rear sight. The ambidextrous versus left side thumb safety is useful for left handed shooters and for some types of competitive shooting events that have a weak side shooting component.

While both model pistols have stainless steel barrels, the bull barrel Target model barrel is black nitride coated to reduce wear in the absence of a barrel bushing.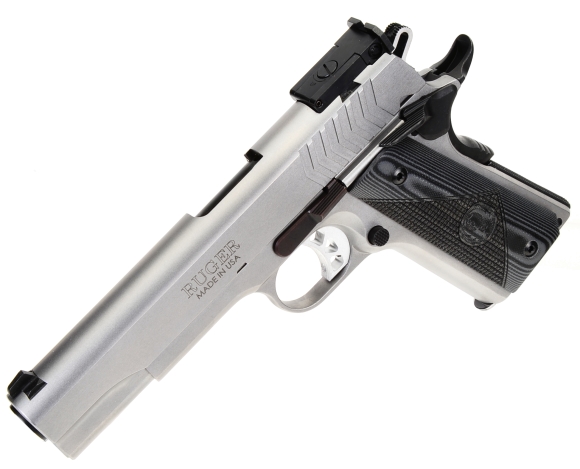 For enhanced control there is an extended magazine release, a raised grip safety and checkered backstrap and G10 grips that will not let go. The somewhere between satin and beaded finish cuts glare at the sights and reflection all over.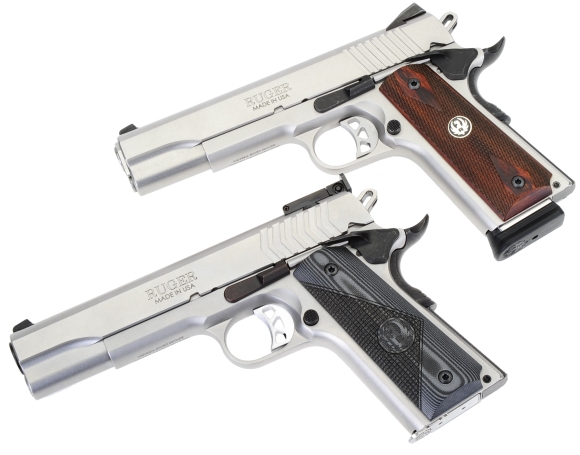 Above, SR1911 45 Automatic carry model above SR1911 Target 9mm Luger version. Even with weight and balance differences, the sameness of the business end of all SR1911 pistols makes shooting experience across the product line applicable to all; trigger reach, beavertail position, grip safety compression, grip width, mag release, thumbs safety, etc. are all in the same place.
Oh yeah, shooting personality…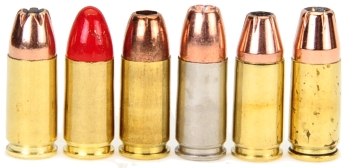 Ammunition

Type

Bullet




Grains

Rated




FPS

Actual




FPS

50′




3 Shot




Group "

IMI Systems Di-Cut

JHP

115

1150

1244

1.5

Federal American Eagle

TSJ

115

1130

1136

1.2

Remington HTP +P

JHP

115

1250

1186

0.8

Speer Gold Dot +P

GJHP

124

1220

1219

1.3

Black Hill +P

JHP

124

1250

1221

1.3

Grizzly +P

JHP

147

1120

1064

1.6
Shooting the Ruger SR1911 Target 9mm Luger is quite different than shooting a 45 Automatic version. 1911 pistols chambered for the 45 Automatic do not generate major recoil. I know where to "Say Uncle" and that falls somewhere around a 4″ barrel, lightweight single action revolver shooting heavy bullet, heavy charge 454 Casull wrist beaters. Still, it would be tough to doze off shooting a 45 Auto 1911.
Shooting the 9mm Luger version of the SR1911 makes you look at your 45 Auto 1911 and ask, "Why can't you be more like this?". The reciprocating action of the slide feels almost dampened and muzzle rise is minimal. Easy on the palm of the shooting hand with the beavertail keeping the web of the hand out of harm's way even in a high grip. Yup, the 9mm Luger pistol does feel a bit nose heavy with the weight of the bull barrel, but it also feels quite steady over a target, even after a couple of cups of coffee… me, not the target.
Overall, it is the type of pistol that is fun to shoot and makes for a lot of empty boxes of ammo on range day. In regard to the 45 Auto versus the 9mm Luger version, I think there is room for both… and maybe a 10mm Auto version, and maybe a lightweight Officers style to round things out.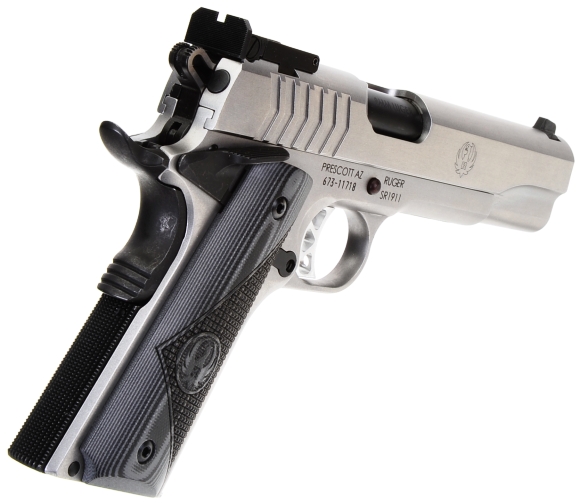 Questions or comments regarding this article: Editor@RealGuns.Com