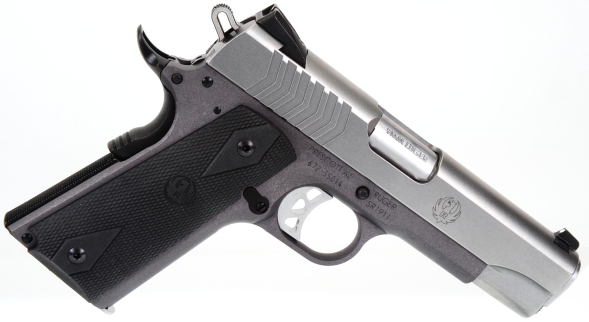 John Browning's 1911 design has had the respect of firearm enthusiast and manufacturers for over a century. Still, there are some who insist on hanging extraneous gadgetry on their 1911s in a desperate cry for attention. Ruger's approach to the SR1911has been to engineer with restraint, finessing the design to enhance form, fit and function. Subsequently, the SR1911 is a clean Series 70 type pistol that offers exceptional performance as shipped, while maintaining compatibility with the vast array of 1911 aftermarket components for those who want to optimize for unique applications.
The spec box narrative… Dun, dun, dun, dun!
Model – Ruger 9mm SR1911 Commander Style

Company

Sturm, Ruger & Company, Inc.

Point of Manufacturer

Prescott, AZ

Model #

6722

Type of Action

Single Action

Caliber

9mm Luger

Capacity

9+1

Barrel Length

4.25″

Barrel Material

Stainless Steel

Rifling Twist Rate

1:10″

Slide Material

Stainless Steel

Slide Finish

Low Glare

Frame

Material

Aluminum

Frame Finish

Matte Dark Gray

Grips

Rubber Double Diamond

Front Sight

Dovetail Mount White Dot

Rear Sight

Novak's Two Dot

Weight of Firearm

29 Oz

Trigger Pull

4 lbs 8 oz

Overall Length

7.75″

Overall Height

5.45″

Width

1.34″

Thumb Safety

Yes

Grip Safety

Yes

Trigger Safety

No

Magazine Disconnect

No

Loaded Chamber Indicator

Barrel Hood View Port

Key Lock

No

CA Approved

No

MA Approved

N0

MSRP

$979

Includes 2×9 round mags and bushing wrench
Historically, a 9mm Luger version of the Ruger SR1911 Lightweight Commander is a natural evolution. The Colt Commander of 1948 was prototyped in .30 Luger, 9mm, 38 Super, and 45 Auto, with all but the .30 Luger making it into production by 1951 for civilian sale. The 9mm Luger version was submitted for the 1951 – 1955 Aberdeen military trials where a 9mm Luger chambered service pistol was being sought. The Ruger SR1911 Lightweight Commander comes together well as a 9mm. The pistol is light, well balanced, compact for easy carry and it offers plenty of power with modern ammunition.
While the 9mm Luger Lightweight Commander shares a much in common with the 45 Auto version, there are key differences other than caliber. The 9mm Luger version has two additional rounds of capacity and where the 45 Auto version utilizes a titanium frame insert to manage the constant strike of bullet to frame when cycling, the 9mm Luger version utilizes a ramped barrel to protect the frame and assure reliable feed.
Both the 45 Auto and 9mm Luger SR1911 Lightweight Commanders are manufactured by Ruger in the company's Prescott, AZ facility. Both pistols have a stainless barrel, bushing and slide, both have aluminum frames, both have common exterior dimensions.
A little closer look…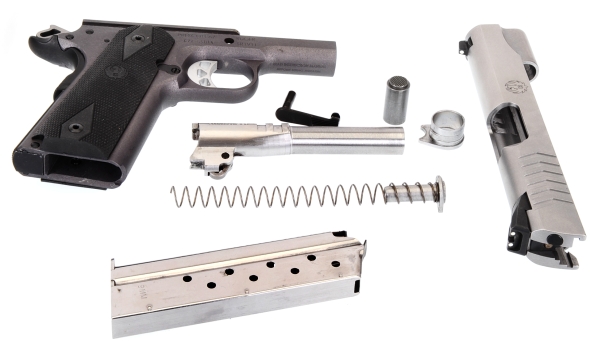 Field stripping the Ruger 9mm Lightweight Commander reveals the usual suspects found in a 1911, although perhaps more precisely done through CNC controlled machining and improved quality of materials. The fit is slick, but close and it is an easy tear down for cleaning.

A clean Series 70 type slide underside. No little spring loaded plunger to feel in trigger pull or to get hung up at the most inopportune times.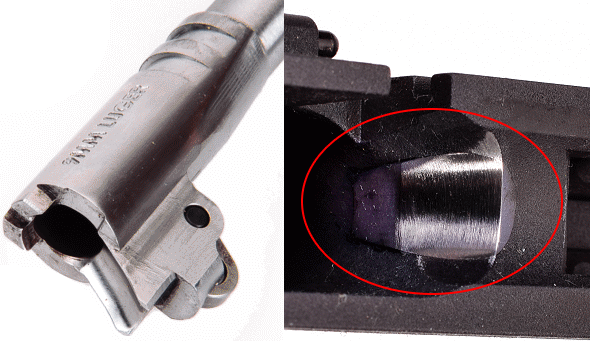 Above, left, the 9mm Lugar barrel is ramped to direct the nose of a loaded round into the chamber and provide full case support. The barrel ramp is keyed to a milled slot in the frame. The 45 Auto version barrel has no ramp, but rather a Titanium insert in the frame to take the thump of chambering rounds. In both cases barrels and bushings are machined from the same piece of bar stock and closely matched for improved accuracy.
The lightweight hammer reduces lock time and cycling effort. Control enhancements come in the form of an improved slide serration design, extended thumb safety and slide stop and an extended magazine release. The grip safety's "speed bump" assures release when grasped. The checkered flat mainspring housing and grip safety are palm filling and non-slip.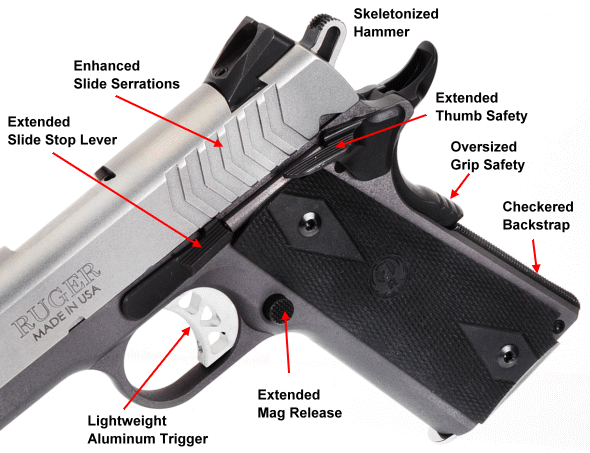 A lightweight trigger is assurance against trigger bounce and inadvertently doubling. The trigger is fully adjustable for overtravel which means the trigger comes up to a solid stop as the hammer is released, which minimizes movement of the bore after discharge. There is minimal pretravel, virtually no creep and a clean let off; things to really appreciate is 1911 type product.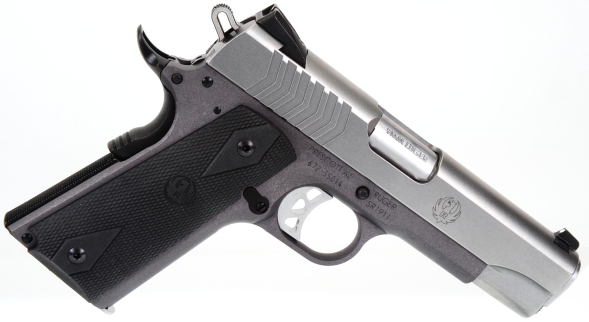 On the starboard side, the ejection port is appropriately lowered and relieved to assure reliable ejection. The subject gun worked without a hitch with everything from subsonic to +P loads. I am glad that Ruger had the wisdom to avoid an ambi safety. Their use is highly limited and to most owners they represent just so much clutter.

The bottom side is also very clean, lots to hold onto in a one or two handed hold, but no hooked trigger guard or under rail to add weight, mass and things to get hung up on clothing or holsters. The SR1911 is actually a quite graceful design.
Yes, it does go bang. Thank you for asking…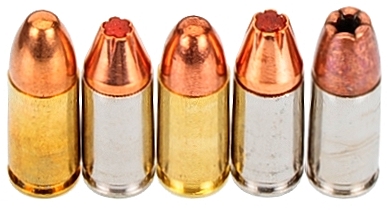 The selection of test ammo was approached in the typical Real Guns scientific methodology; I scrounged around in the pile of ammo on the shelf and grabbed the closest five. Actually six, as one was subsonic which I tested for reliably cycling then returned to the shelf as non-applicable in the absence of a suppressor.
Ammo

Bullet
Type
Bullet
weight
Grains
Rated
FPS
Actual
FPS
50′
3 Shot
Group"
Winchester USA
FMJ
115

1190

1143
2.1

Hornady Critical Defense

FTX
115
1140
1112
1.8
Remington UMC
FMJ
124
1100
1044
2.2

Hornady Critical Duty +P

FlexLock

135

1115

1017

1.9
Winchester Train & Defense
JHP
147
950
931
2.0
It is important to note that the above represents a random draw on ammo. I am sure a little time spent evaluating other types of ammo for this pistol would yield even better results. There are thirty ammunition manufacturers cranking out 152 flavors of ammunition, all just waiting to be tried and tested for: accuracy, expansion, penetration, muzzle flip and flash and general overall niftiness of appearance.
About halfway through the live fire session, it dawned on me how easy shooting the Ruger 9mm SR1911 Lightweight Commander is… this pistol needs a nickname as the assigned moniker is a bit too long. I'm thinking maybe Bart. As a person who enjoys banging away at a target with a short barrel 1911 loaded with +P 185 through 230 grain JHPs, and feeling a steel slide cycling back at me with empties spraying the surrounding landscape, I would have to classify the 9mm Lightweight as leaning toward rainbows and unicorns. In fact, I shot without a catch net and the found the pile of ejected empties six feet to my right and one foot behind.
Overall, the… Bart, is substantial. The grips are comfortable and not abrading. For me, the grip angle is perfect with a point results in near three dot alignment. Trigger pull remained crisp, perhaps even feeling a bit more polished as the day wore on and ammo boxes emptied. When the session was over my wrist could easily support a cup of coffee without splashing and I noticed my ears were not ringing. I think there is no mystery why some folks like the 9mm Luger cartridge and good pistols chambered for the same. Even clean up was a snap. I am not sure what type of force field Ruger puts on this gem, but a quick wipe cleared any residue.
How would I summarize these wandering thoughts?
There are many firearms with excellent qualities that just don't do it for me. I may use them on occasion, they may perform in an excellent fashion, but they will not join me for personal time at the range or in my home for self or on my hip when out and about. I like this Lightweight It has no European socialist theme, there is no poly frame, it is not two inches thick to poorly mask a 20 round magazine. It is an American firearm, design and manufacture. It feels good and it shoots good.
What might be on a wish list for further evolution? An all black version would not be too hard to take. I'm too dog eared to pull off too much "fancy". Something in matte black, but not flat black. I would also not mind one chambered for the 38 Super as a 45 Auto – 9mm Luger bridge. Other than that, sometimes a little restraint is just about right.