Writing about firearms is different than writing about most other things. Mysteries, science fiction, historical works, are almost always outlined, flow charted and modular in structure. Characters are defined to suit the plot, each story unfolding with the intention of  bringing about an intended conclusion; the murder of Roger Ackroyd would not have become known if not for Hercule Poirot.
Reviewing a firearm has no predetermined conclusion to cultivate, or to champion, and often the main character is not known by the author until the smoke has cleared, the chronograph is put away, the targets are checked, and there has been time to reflect on the overall experience. At that point, work becomes reporting, perhaps with a bit of a color commentating to hopefully reduce the snooze factor.
Opening the Ruger Hawkeye African's box, it was not obvious if the rifle or the cartridge would be the star, even though I've had a good deal of experience with each. After all, sometimes a combination works with the whole being greater than the sum of its parts and sometimes… the cheese stands alone.
The Ruger Hawkeye African
The first Ruger Hawkeye African reviewed at Real Guns was an early model. Chambered for the 338 Winchester Magnum, it did not have a muzzle brake or ebony forend found on current magnum models, but it did have the current traditional red Ruger recoil pad. Some folks grumble about this model rifle needing a more resilient pad, but I like to think this is Ruger's way of making sure the shooter gets the whole magnum shooting experience. In reality, the addition of a highly efficient muzzle brake on magnum calibers mitigated the need for a more resilient a recoil pad and, chambered in 6.5x55mm, the rifle does not require a brake or a more significant recoil pad to tame the cartridge's modest recoil.
Ruger Hawkeye African Rifle

Manufacturer

Ruger Firearms

Model

47186

Type

Bolt Action

Caliber

6.5×55 Swedish


Magazine Capacity

4

Barrel Length

24"

Rifling

1:8″ 6 Groove

Weight

7 lbs 6 Oz (Actual)


Overall Length

45.88"

Stock

American Walnut – Ebony Tip


Hardware

Satin Blued


Length of Pull

13.5″

Drop at comb

3/8″

Drop at heel

3/4″

Sights

Folding Rear – Bead Front

Scope Mounting

Ruger Proprietary


LC6 Trigger Pull

4 lbs. 1 oz. (Actual)


Safety

3 Position Thumb Safety

MSRP

$1,279

Distributor Exclusive


Lipsey's
Notes and observations
The barrel length selection is a good one. The 6.5×55 Swede has greater powder capacity than a other non-magnum 6.5s and can use the barrel length to generate higher velocity with higher sectional density, higher ballistic coefficient bullets that will retain velocity, longer.
This model is listed on the Ruger site as 8 Lbs 3 Oz, but actual weight is significantly lighter at 7 Lbs 6 Oz. The Ruger Hawkeye African is built like a hunting rifle. No bulbous forearm, no wide midsection, no protruding cheek piece or Monty Carlo comb. It is made to be carried in the field rather than parked on a shooting bench.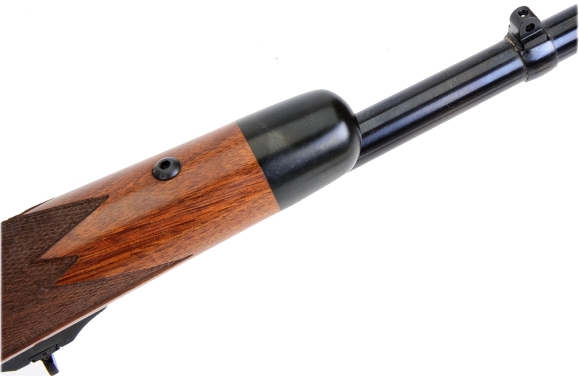 The barrel banded sling swivel is a nice touch and it properly positions a carry or shooting sling. The cross bolt is functional and backs up the already beefy action recoil lug. Checkering is sharp, patterns are clean and placed as functional gripping surfaces rather than places mostly for aesthetics. The black ebony tip is of the types I've had to install, or have installed, for more than a few dollars and solely for decoration.
The Ruger LC6 trigger is a good one. It is non-adjustable, but light enough and clean enough so that adjustment isn't necessary. Bill Ruger's interest in heraldry is expressed on the hinged floorplate as Ruger's Eagle logo. The floorplate release is handy, but out of the way of fingers reaching for the trigger. The little square of silver tape is on every Ruger and promptly removed by less lazy writers.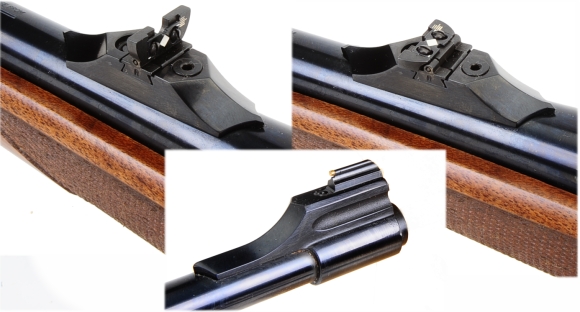 Where the big magnum Ruger Africans have an Express rear sight, shallow V notch and are adjustable only for windage with a 50 yd preset for elevation, this model has a rear sight that is adjustable for windage and elevation and it flips down out of the way when a scope is mounted. The front sight is ramped and fitted with a brass bead.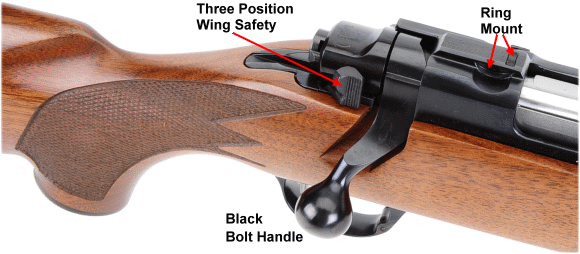 The three position safety allows" full forward fire position, mid safety on position – bolt can be cycled and full after safety on position – bolt locked, The Ruger scope mount system is scalloped on the side to allow supplied Ruger rings to be clamped to the receiver and a radiused top cut that accepts a locking tab extending from the base of the ring. They system is very secure. This model has a blackened bolt handle on a stainless bolt and is is the only one in the Hawkeye lineup with this combination. Looks good.
The 6.5x55mm Swedish Mauser… SE
SAAMI recognizes the 6.5x55mm cartridge as the 6.5×55 Swedish. Our international C.I.P. friends label the cartridge as the 6,5×55 SE. The history of the cartridges shows it to be a joint development effort by the governments of Norway and Sweden that concluded with a common military cartridge in 1894.
In deference to the greater strength of Sweden's then new German manufactured Mauser military rifles and Swedish production that followed, Sweden bumped the pressure of the 6.5×55 while Norway elected to maintain a lower pressure level to accommodate the lesser strength of their Krag–Jørgensen rifles. The cartridge remained in military service until 1995.
In 1990, the National Rifle Associations of Denmark, Norway, and Sweden agreed on a standardized set of drawings and specifications, renaming the cartridge 6.5×55 SKAN for civilian use. The cartridge was C.I.P. listed in 1984 and was revised to its final specifications in 2013.
By transducer measurement method, C.I.P. maximum average pressure is 3800 BAR, approximately 55,000 PSI. SAAMI, by the same method, sets a maximum average pressure of 51,000 PSI. This is consistent for use in older military Mauser rifles and similar designs, but soft by most current bolt action rifle standards.
The Class of '65
There are essentially three cartridges sharing the same ballistic space in current ammunition, with rifle availability. L-R 6.5×55 Swedish, 260 Remington and 6.5 Creedmoor. Each has a story to tell to justify its respective existence.
Cartridge

Bullet




Weight




Grains

Factory




Rated




FPS

Maximum




Average




PSI

Case




Capacity




Grains H2O

6.5×55 Swedish

140

2735

51000

57.0

260 Rem

140

2750

60000

53.5

6.5 Creedmoor

140

2710

62000

53.5
It was a glut of military surplus Swedish Mausers imported into the U.S., models: 1894, 1896, 1938 and derivatives like the model 1941, and tons of cheap 6.5×55 ammunition that grabbed the attention of Americans… who are always looking for a Cosmoline soaked 2×4, strapped to a piece of rusted hardware, to turn into a artistically executed sporter.
The 6.5×55 Swede suggests that, in a long action, bullets can be seated outward from spec to preserve case capacity, as long as the chamber throat will allow. Also, its anemic 51000 psi MAP can be bumped by an experienced and knowledgeable handloader who understands the implications of increased pressure. For folks who just like rifles chambered for a classic cartridge, there are currently 17 factory loads available.
The 260 Remington's claims to fame are its ability to function in short action rifles and with AR-10 type platforms. The 260 Remington has enjoyed success both as a hunting and competitive shooting cartridge, the proud child of the 308 Winchester parent. There are 20 factory loads for the 260 Remington.
The 6.5 Creedmoor… who knows? In a short action, it offers less heavyweight bullet case encroachment. It also has done well as both a hunting and competitive shooting cartridge and, yes, it does work with AR-10 type systems. Of probably greater consequence, enthusiasts love the old time name and will flock to it when called with Siren like marketeers messaging. There are 49 factory loads for the Creedmoor.
My attachment to the 6.5×55 Swedish came through owning exceptional rifles chambered for the cartridge, something I've not found with the 260 Remington or 6.5 Creedmoor, and the opportunity it presented to me as a handloader. I am going to take a short break, work up some handloads and see how the combination works.