The first time I picked up this gun it felt very familiar in terms of mass, size and balance, but I couldn't quite pin it down to another specific gun. Then, while carrying it out to the range, it dawned on me – the Enfield No.5 Jungle Carbine or an M38 Nagant. No, I'm not suggesting the Scout Rifle is anything but slick and modern, aesthetically and/or functionally. I'm just saying that it is a tough little gun that can deal with a lot of situations.
Model

Ruger Gunsite Scout Rifle

Caliber

308 Winchester

Action

Bolt action

Hardware

Matte Black Alloy Steel

Stock

Black Laminate

Mag Capacity

10

Barrel

16.5″

Twist Rate

1:10″ RH

Rear Sights

Ghost Ring – Adjustable

Front Sight

Post

Scope Mounting

Integral Ruger Mount System

Weight

7 lbs

Overall length

38″ – 39.5″*

Pull Length

12.75″ – 14.25″*

MSRP

$999

*Includes recoil pad spacers
Left hand model also available
Setting up the Ruger Gunsite Scout Rifle left me thinking it is unfortunate that firearms are often placed in a niche through association and not looked at in a broader context. Shooting the Scout Rifle does not require a Stallonian rise from beneath the surface of a lake or the ability to start a campfire by rubbing two chipmunks together. The Scout Rifle is something more, like a hunting rifle, even for an ordinary guy like me.
Originally, the plan was to mount a scope at the traditional position and shoot some groups. I'm slow to embrace accessories designed after 1965. But the Picatinny rail kept reminding me there were more options available, so I ended up mounting a scout scope as well as a red dot and shooting through the metallic ghost sights as well. A few brands of ammunition were selected to see if there was anything in particular that proved optimal for the gun's relatively short barrel.
In the broader view…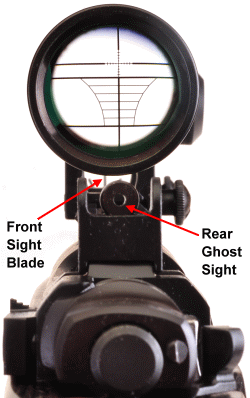 In Maine, shots at deer can range from inside 40 yards to the other side of 200 yards which, theoretically, is an ideal environment for a scout scope set up where bases are see through and permit the use of either the scope or ghost sights as the need arises.
I gave up struggling with the camera, rifle, scope and ghost sights when I fell off the ladder before I could get a good picture of the gun's line of sight, but the view through the ghost sight is actually quite unobstructed. I could lift my head a tad and have excellent eye – scope alignment. I could lower my head a tad and have a clear view right down the barrel to the front sight.
OK, so I have not exactly been a scout scope… evangelist. And, yes, I have often made fun of people using a scout scope but, this time, I got it, so I picked up a 2-7x44mm scout scope with a range finder reticle and 30mm tube. The initial thought was that I would use the scope once or twice before relegating it to loft storage. However, at 12 1/2″ eye relief was excellent, the image was sharp and clear, it had good contrast, and there were no apparent optical aberrations. The scope was bounced around all day and did not lose zero or demonstrate a line of sight shift.
When other sight systems are to be installed that require removal of the ghost ring sight, it removes easily. The sight keys into the Ruger's receiver to prevent it from shifting in any direction and it is retained by one graded fastener. Below – the rear sight was removed so it would not obstruct line of sight and a red dot sight was installed at the rear of the Picatinny rail.
Of course with the rear sight removed, the set of rings Ruger includes with the rifle can be used for a more traditional scope mounting arrangement. The scopes objective bell sits between the raised locators on the Picatinny rail with plenty of clearance as suggested below.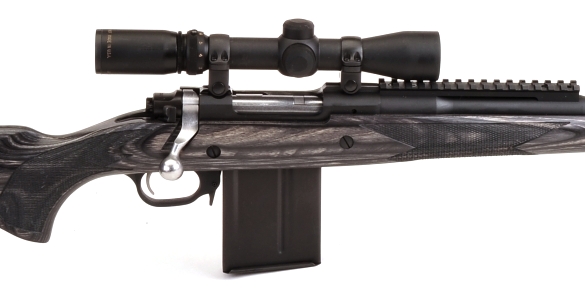 Ultimately, it isn't as though there is a specific set up that is better suited for the rifle, only set ups that favor individual shooters. It is nice not to have to chase around for ring sets, bases, rails, and sight sets and still have a variety of significant sight mounting options available. If I wanted to extend the options to give the Scout Rifle a more universal sight/accessory mounting Picatinny system, I could have replaced the Gunsite rail with an XS System's piece, Brownells # 006-000-175WB that would extend the rail all the way to bolt handle.
Long barrel velocity

Ammunition has come a long way since the days of short barrel = low velocity results. Special powder blends and optimized pressure loads from manufacturers have yielded much improved short barrel velocity. Hornady Superformance ammunition sells for approximately $6 – $8 less than other premium brand ammunition, it is loaded with quality Hornady bullets and it has a 150 fps – 200 fps edge over its competition.
Brand

Type

Bullet Weight

MV

3 Shot Groups – Inches

Rated

Actual

50 Yard
Ghost
50 Yard
Fwd Scout
100 Yard
Aft Scope

Hornady

Superformance

150

2940

2832

2.3

0.8

1.2

Remington

Express

150

2820

2671

2.4

0.7

1.3

Winchester

Supreme

150

2810

2703

1.8

0.4

0.9

Hornady

Superformance

168

2840

2714

2.4

0.9

1.2

Remington

Premier – Swift

165

2700

2607

2.7

1.2

1.0

Federal

Fusion

165

2700

2613

2.6

1.0

1.

4
Metric, inches and Internet group sizes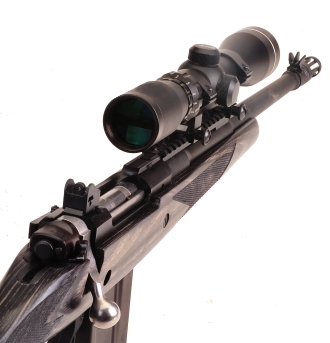 The Ruger Gunsite Scout Rifle is accurate, particularly since the noted results came from an out of the box rifle, shooting factory ammunition. Unfortunately, if will have to compete with every message board post that reads, "I took my Nagant M91/30 to the range and shot 0.2″ 100 yard groups using Milsurp ammo from Bolivia. I hope to cut that in half as soon as I figure out how to mount a scope". Then the next six posts by other people assert the same from their vintage Enfields, Mausers and assorted Schnouzers".
The thing that amazes me is where all of these ace shooters came from. Next time you go to a range and walk out to check your target, count the guys on either side of you who can't find a bullet hole in a 36″ circle at 100 yards. So for folks who live in the real world, I will say it again. The Ruger Gunsite Scout Rifle demonstrates a high degree of out of the box accuracy,
The Ruger Gunsite Scout Rifle is easy to pick up and hard to put down. It is a fast handling rifle with a lot of personality. Even if you don't have plans to carry it into battle, it will make a heck of a hog or deer rifle.
Ruger's Gunsite Scout Rifle – Part I
Ruger's Gunsite Scout Rifle – Part II