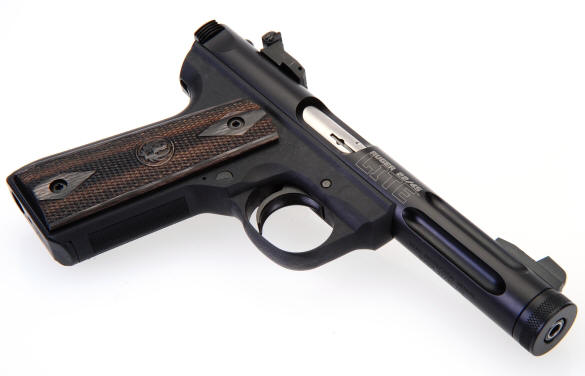 I'm pretty sure that if Michelangelo had sculpted a rimfire pistol, it would have looked a lot like the Ruger 22/45 LITE. OK, I am Italian and, therefore prone to aesthetic exaggeration. Still, Ruger's appearance design, where form follows function, has been artfully executed.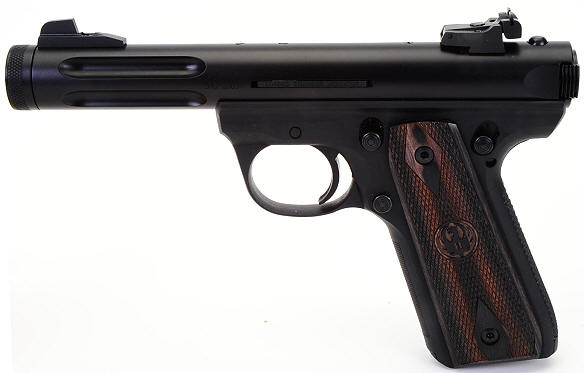 The aluminum upper is black anodized, the Zytel® Polymer frame is matte black and the birch laminate grips are understated. The flutes in the barrel shroud are enough to reduce weight and aid in cooling, but are proportional in scale to the rest of the pistol. The 4.4″ barrel sleeve inside the aluminum shroud is made of stainless steel. The controls are within thumb swipe range and positive in actuation.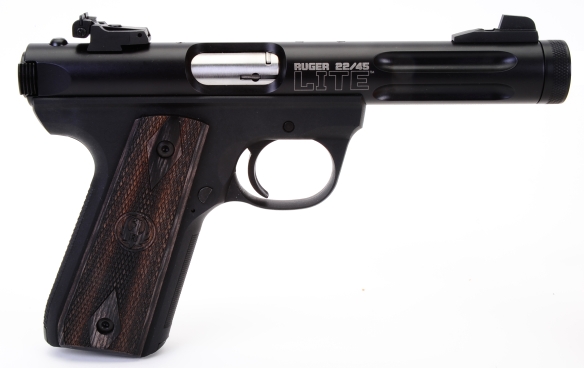 The receiver is drilled and tapped for a Weaver type optical sight base. A base is included. Coverage of telescopic and red dot sight mounting on the Ruger 22/45 was covered previously. The dovetail mounted rear sight is micro adjustable for windage and elevation. The front sight is ramped, matted black. Mounting is compatible with Mark III sights including fiber optic.

The Ruger 22/45 is narrow, but the grip is hand filling and the grip angle mimics a 1911. The grip frame is checkered front and rear and 1911 grips can be modified to fit the 22/45 and there are custom and production grips available from aftermarket suppliers like Volquartsen and Hogue in aluminum and exotic hardwood variations. For folks who are handy with minor wood working projects, the flat sides panels are actually easy to make.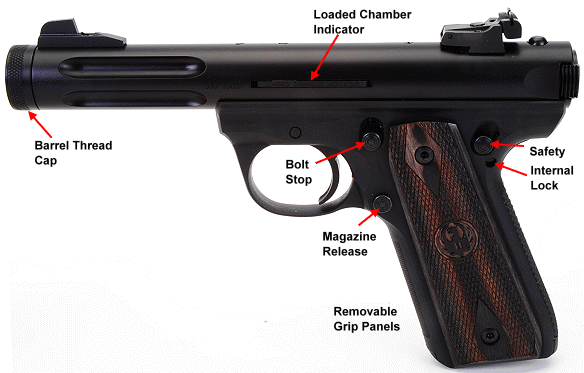 The barrel thread cap is removed without tools. A wave washer helps retention when shooting with the cap in place; both are removed when a 1/2×28 accessory is installed. The loaded chamber indicator protrudes from the side of the receiver when the chamber is loaded chamber., but just enough to expose a small red dot on its top surface. The internal lock is locked and unlocked with a small key supplied with the pistol.
Putting on the brakes
Installing a muzzle brake, compensator or sound suppressor where legal, is easy. In this case a Tactical Solutions Pac-Lite Compensator has been installed.
Why would anyone want to put a compensator or brake on a 22 LR rimfire? During live fire checkout, report was more… authoritative, however, group size at 50′ was reduced. I can't honestly cite what dynamic was altered, only that either my handling of the pistol or the muzzle control of the pistol were improved with the compensator in place.
High and standard velocity ammo shot just as well. I did not shoot subsonic or match ammunition, just standard and high velocity 36 and 40 grain Remington and Winchester ammunition. The group on the left measures approximately 2″, the group on the right measures approximately 1 1/2″, the latter shot with the compensator in place. Both are excellent for a recreational target pistol.
Ruger 22/45 LITE

Manufacturer

Sturm Ruger
Item #

P45MK3ALRPFL

Type

S/A Autoloader

Caliber

22 LR

Mag Capacity

10

Barrel Length

4.4″
Rifling

1:16″

Threaded Muzzle

1/2×28

Weight

23.00 Oz
Receiver
Aluminum
Grip Frame

Zytel® Polymer

Overall Length

8.50″
Overall Height
5.50

"

Width

1.00

Sights

Adjustable Rear W&E

Safety

Thumb + Internal Lock

MSRP

$499

Nominal Weights & Measures
Most of the trigger's 1/4″ stroke is very slight resistance take up. There is no perceivable creep and break is crisp at just over 4 lbs. Overtravel is minimal. The trigger is wide and comfortably contacts the finger pad.
While the 22/45 is very light, it also feels well balanced and the muzzle is steady on a target. As I noted earlier, the grip is very comfortable in hold. The sight picture is excellent and the all black sights have good contrast over a light… ish background. I would probably invest in a fiber optic front sight, but only as a personal preference.
Recoil was virtually nonexistent and there were no incidences of failure to feed, fire or eject. When I was done shooting for the day, the gun wiped clean with a soft cloth. The original Ruger 22/45 LITE release was an interesting firearm, gold anodized, diagonal flutes and all, but perhaps a bit too… exciting for my personal taste. This black on black release has just the right look and feel for me.
For further information, including video details of the LITE, check out the product detail and supoport page at Ruger.Com.