Ruger introduced the 5 shot, Lightweight Compact Revolver in January 2009. The LCR was, and remains, quite a revolutionary product. This model is only 17.1 ounces in weight and modularly constructed with a polymer fire control housing, a 400 series stainless steel mono frame, and a Carpenter 465 stainless steel cylinder and barrel… the same material used in Ruger's 454 Casull revolvers. The revolver's front latching system is made of titanium piece parts to assure the cylinder stays latched.
Models chambered for the 38 Special with a +P rating and 22 rimfire magnum versions have a forged 7000 series aluminum frame. Below, a look at the construction of an early 38 Special +P version. The LCR is easy to take down for cleaning and maintenance.
We had previously reviewed both 38 Special +P and 22 Magnum versions of the LCR, as well as theexternal hammer version of the 38 Special version, but stopped short of the 357 Magnum model, intuitively feeling that magnum recoil in such a lightweight revolver might make it too unmanageable for defensive use. Less intuitively and more factually, Ruger addressed the heavy recoil/light revolver dichotomy with the recoil absorbing properties of the long-fiber filled polymer fire control housing and Hogue Tamer grip.
The LCR's grip is… different, angling back at the heel. There is room for a couple of fingers, but the back of the grip is formed to make it hand filling. The LCR's grip was designed using US military anthropomorphic data on hand shape, so the LCR can be comfortably held within a wide range of hand sizes. It works. I found the LCR to be very controllable and nothing like my prior unpleasant experience with S&W Airweight 38 Specials. In the picture below, the no slip hash marks and Ruger logo are just visible at the top of the grip where contact is made with the web of the hand.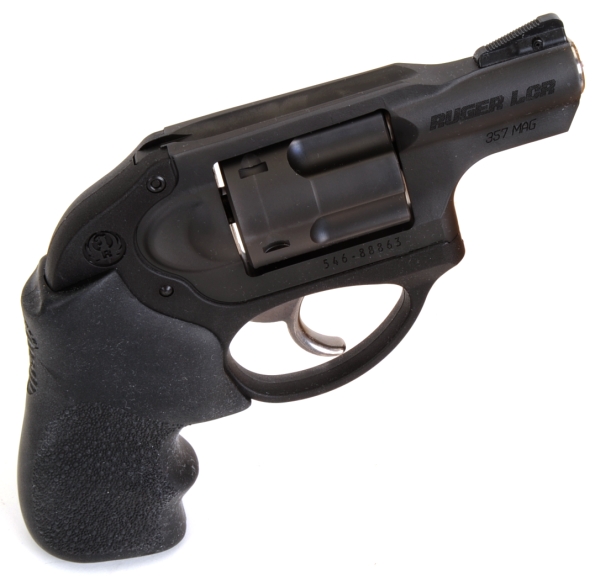 The LCR has no exposed hammer and a very smooth profile to facilitate concealed carry. The sights are a combination of a pinned ribbed front and a "U" notch rear that runs the length of the frame. From my experience shooting the LCR, the sights are right for the intended application, but I think the revolver's potential is more than the sights would afford. The Ruger Shop offers red and green fiber optic and Tritium front sights as well as a LaserMax unit. I wouldn't mind a smooth rise for a fiber optic rear sight, but but that might conflict with the revolver's ease of concealment.
Visible from this side, the grip is thinned to clear a speed loader. Most of double action revolvers have a double hump trigger pull, but not so with the LCR. The LCR's camming trigger pull is relatively short, it builds resistance uniformly and breaks cleanly at approximately 9.5 lbs.
Ruger LCR 357 Mag

Manufacturer

Sturm, Ruger & Co.

Item #

5450

Country of Origin

Newport, NH

U.S.A.

Type

Double Action
Actuation
Trigger – Hammerless

Caliber

357 Magnum

Capacity

5

Barrel Length

1.875″

Rifling

1:16″ RH

Weight

17.1 Oz

Overall Length

6.5″

Grips

Hogue® Tamer™ Monogrip®

Frame Material

Series 400 SS

Barrel Material

Carpenter 465 SS

Cylinder Material

Carpenter 465 SS

Grip Frame Material

Glass Filled Poly

Rear Sight

U Notch Integral

Front Sight

Ramped Pinned Blade

Trigger Pull

9.5lbs

MSRP

$599

Nominal Weights & Measures
Live fire…
I shoot a good number of handguns at work throughout the year, in addition to shooting my own. Snub nose revolvers don't top the list of my favorites because they are usually difficult to control, inaccurate and unpleasant to shoot. That was my anticipation with the first shot, but that proved not to be the case.

Shooting Remington High Terminal Performance 158 Grain JHP ammo, the Ruger LCR generated 950 fps MV, compared to 1206 fps from my 4.2″ barrel Ruger GP100. By comparison, Winchester 38 Special FMJ 130 grain went 738 from the LCR and 861 fps from the GP100. So even in the short barrel LCR, the 357 Mag was worth 200+ fps over the 38 Special ammo.
Care must be taken when chronographing anything subsonic in a short barrel firearm like the LCR. Powder and gases exit a muzzle at supersonic speed and can trip the start timer on the chronograph, then dissipate before tripping the stop sensor. The timer is left running until the subsonic bullet catches up and crosses the second sensor. The result is artificially low velocity readings. Standing too close to the chronograph, we were able to cause velocity readings of only 580 fps to 615 fps. By backing up a full ten to twelve feet, correct readings were recorded and validated with a three screen Oehler.
While the Ruger LCR has quite a bit of bark, recoil is a moderate slap in the palm of the hand. The muzzle stays down and the sights are clean and contrasting in daylight. Putting 5 shots into 2″ – 2.5″ circle at 7 yards was fairly easy and thatr level of proficiency came within a short period of time. For me, that is good short barrel revolver shooting.
I like the Ruger LCR 357 Magnum, in regard to price and performance. I also think the materials used make for a terrific carry gun and tackle box gun with an expectation of long service life and reliable self defense. Is there anything I would like improved? Sure, I would love to see a set of red/green fire sights designed in and a double action trigger as slick at the GP 100 Champion.