Ruger's AR-556 is a company milestone product. Its direct gas impingement design is a departure from the company's gas operated, piston driven Ruger SR 556 and SR 762 MSRs and it is the first Ruger rifle to be designed and manufactured entirely at Ruger's Mayodan, NC facility. It is Ruger's new M4 style Modern Sporting Rifle.
As is the case with the SR series MSR products, Ruger has incorporated popular features, quality materials and advanced manufacturing processes into the AR-556. As a result, customers receive rifles that are ready to go, not rifles that are in serious need of upgrading or completion. To Ruger's credit, they do this at a more than competitive price.
Ruger AR-556

Manufacturer

Sturm, Ruger & Co.
Model#
8500
Gas System

Carbine Length – Direct Impingement

Caliber

5.56 NATO / 223 Remington

Mag Capacity

*30 Round Magpul PMag

Barrel Length

16.1″ Medium Contour 4140 CM
Rifling

1:8″

Weight

6.5 Lbs

Overall Length

32.25″ – 35.50″

Stock

Collapsible
Receivers
7075-T6 Aluminum Forging

Receiver Finish

Type III Hard Coat Anodized

Barrel & Gas Block

Matte Black Oxide

Length of Pull

10.5″ – 13.5″

Front Sights

Elevation Adjustable

Rear Sights

Windage Adj Rapid Deploy Folding

Accessory Mount
Picatinny Rail

Trigger Pull

7 Lbs. 11 Oz. Single Stage

Safety

Rotating

MSRP

$749

*5, 10 and 30 round based on state requirements
Real Gun's had the AR-556 in house for an extended period of time, which allowed us to shoot the rifle frequently and with a good assortment of both factory and handload ammunition. It was shot with both a scope and the supplied rapid deploy folding sight. For as much as I would be to jump directly to live fire results and impressions, I need to first touch upon some of the details of the mechanical assembly.
In some ways, the AR-556 is very much a spec gun; all 20,000 popular AR-15 accessories will fit, so if you are one of those people who can't rest until their rifle looks like an open Swiss Army knife… you can have at it.
For folks who want a reliable all purpose rifle, the AR-556 is ready to go for hunting, security and self defense applications. It is very compact and, at 6.5 lbs, at the light end of the aluminum receiver AR spectrum. Manufacturers listing lighter ARs types tend to leave off sights, magazines,… barrels, etc. for the weigh in.
Some of the mechanical detail…
Like any standard AR firearm, pulling the aft take down pin out to detent allows the upper to pivot down for cleaning and routine service. Pulling the forward pivot pin to detent separates the upper assembly from the lower. Whatever knowledge a person has required with the M16, AR15, M4, etc carries over to the Ruger AR-556, as would any AR-15 type uppers that might be laying around.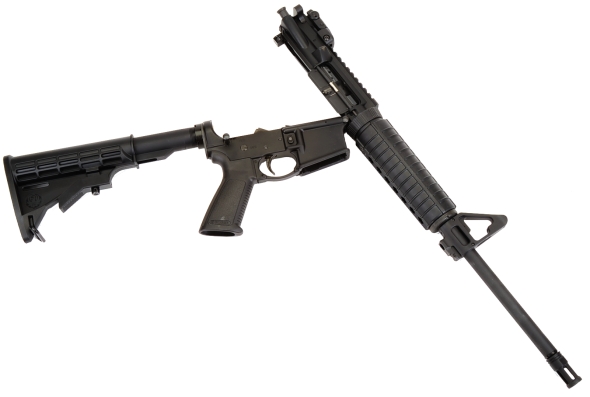 AR-556 handguards are made of glass filled nylon. The rifle does not employ the standard sprung delta ring that requires two people, six hands and a Johnson bar for removal. The Ruger's delta ring is twisted counterclockwise (as viewed from the rear), until it clears the handguard flanges, then the handguard halves are pulled out. Installation is just a reverse of that sequence. This set up will accommodate any standard handguard, however, the AR-556 can also accept a standard barrel nut and delta ring set.
The AR-556's 16.1″ barrel is hammer forged, made from 4140 chrome moly steel. The twist rate is 1:8″, tight enough to stabilize bullets within the range of 35 to 77 grains. The AR-556 has a 5.56mm NATO chamber that is also compatible with 223 Remington ammunition. The muzzle thread is 1/2″x28, the rifle is supplied with a Ruger flash suppressor. The barrel diameter under the gas block is 0.750″ making it compatible with all popular adjustable and Picatinny rail gas blocks.
As pictured above…upside down and photographed through the mag well, the AR-556 has M4 feed ramps that begin in the rifle's upper receiver and continue into the barrel extension.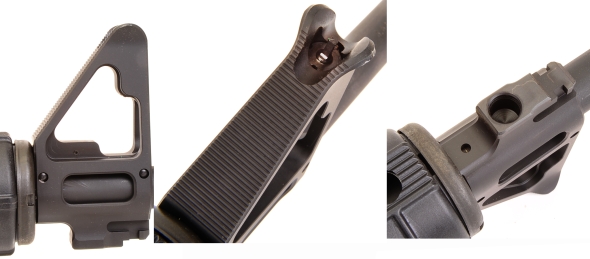 The pinned gas block is fixed metering and locates the front sight at standard flattop height. The ramp face is serrated to cut glare, the sight is elevation adjustable. The bottom side provides a bayonet lug and multiple sling attaching points, including a push button quick detachable sling swivel port.
Since the front sight takes care of elevation adjustment, the rear needs only windage adjustment, which is exactly what the Ruger Rapid Deploy folding sight provides. A steel cross bolt prevents fore and aft movement and a push of the side button, and some spring assistance, locks the sight in the upright position. The peep sight is a good one, scalloped on the face to reduce glare at the aperture.
The upper and lower receivers are Type III hard coat anodized 7075-T6 aluminum forgings. Present are a forward assist and dust cover, both appropriate for a general purpose firearm that may see less than perfect ammo and environmental conditions. The upper lower fit is very precise and they stayed tight through a considerable amount of use, without resorting to the use of plastic wedges some companies stuff between receivers to use to hide their slop fit.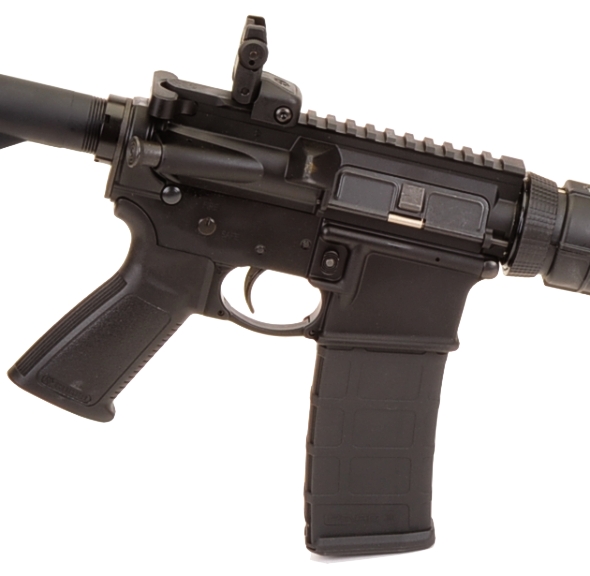 The beavertail pistol grip is comfortable. The oversize trigger guard is removable, the spacing fits AR accessory trigger guards. The AR-556 was packaged with a 30 round magazine. Some may ship with 5 or 10 round depending on individual state requirements.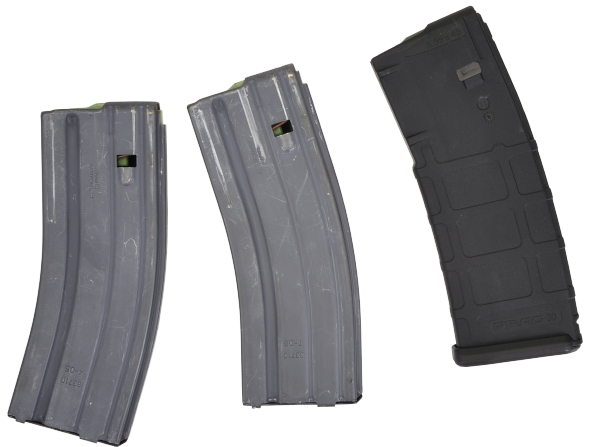 Not a Ruger recommendation, certainly, but during range sessions I loaded up some of the oldest AR-15 magazines I had in the shop, beaters. Regardless age and capacity they all fed and cycled without a hitch. The AR-556 is not magazine picky.
The bolt carrier and gas key are chrome plated internally, matte black oxide externally. The bolt material is shot peened 9310 alloy steel. Shot peening creates compressive stresses which increase the material's resistance to corrosion fatigue, stress corrosion cracking, fretting and galling. If there is anything I hate it is fretting and/or galling… like some of my relatives… on my wife's side.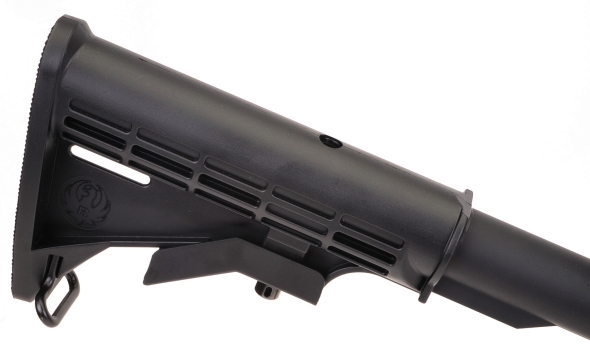 The buttstock is an easy to adjust, but positive indexing six position M4 type. The buffer tube is Mil-Spec. There is no recoil pad, but then why would anyone want one with a rifle chambered for the 5.56 NATO. There is an opening at the back in line with the buffer tube that I would like to see closed, just to keep dirt and field mice out and because it just bugs me. A little door… a Ruger logo…
Home, home on the range…
One of the nicer aspect of living and working in the boonies… You just cut a path through the woods where there is a suitable backstop, fight your way through deer ticks and bees nests to set up targets, then go back to the bench and spend the rest of the day putting holes in them. In the summer you get heat stroke, in the winter you freeze your butt off, but you still get to shoot firearms. Anyway…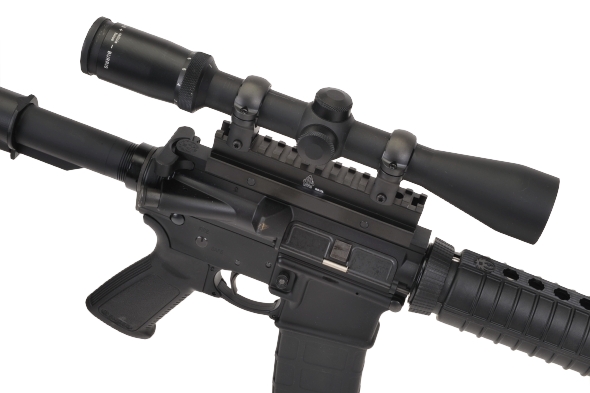 For the purpose of checking mechanical accuracy, a Burris scope set at 9x was used, with the rifle secured in a shooting sled. The scope was mounted on a 1″ Picatinny riser with high Burris Z mounts. Offset Burris bushings were used +5º front, –5º rear, which put the scope's adjustment just about mid range for elevation and windage.
10 types of ammo we fired. Yes, I know there are nine boxes and rounds in the picture, but I shot up the last of the 62 grain Eagle so I had none for the picture. Yes, I could have placed the empty box in the picture, but it would not track to the rounds in the foreground. It was a creative call… Honest.
Cartridge

Bullet
Type
Bullet
Weight
Grains
Actual
MV
FPS
100 Yard
3 Shot
Group"

Winchester VarmintX

Poly Tip

40

3360

1

Remington UMC

JHP

50

3125

3/4

American Eagle

Poly Tip

50

2986

7/8

Hornady Superformance Varmint

Poly Tip V Max

53

3171

1

PPU

FMJ BT

55

2989

5/8

PMC XTAC

FMJ BT

55

3052

5/8

PMC XTAC

Green Tip LAP

62

2952

1 1/8

American Eagle
FMJ BT
62
2802
3/4

PPU Match

HPBT

69

2639

3/4

Hornady Superformance Match

HPBT

75

2743

7/8
The AR-556 was cleaned prior to live fire and after completion, however, there was little in the way of powder or brass residue to clean up afterward. Ambient temp was about 60ºF, which probably contributed to the AR-556 running fairly cool. I am sure brief periods of target checking and making notations also helped that along. It is an accurate little rifle with any ammunition we shot and the 1:8″ twist handled light and heavy bullets without a problem.
Since I always put costly floating handguards on any of the ARs I assemble or purchase, I was eager to see if altering pressure applied to this non-floating handguard would affect accuracy… not to any degree that I could discern.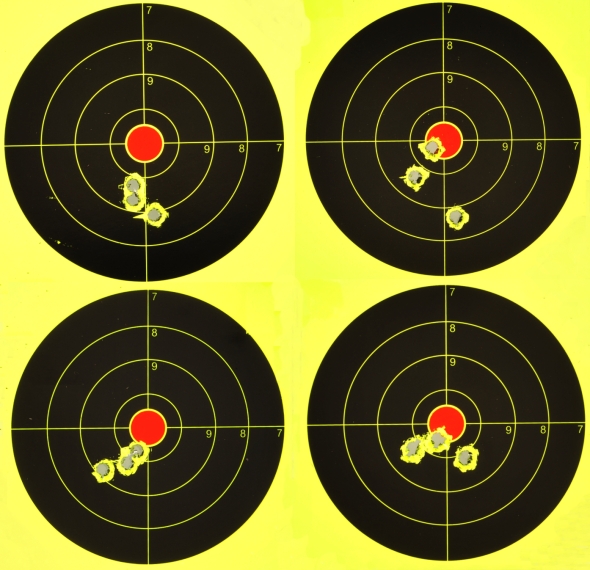 A composite of some of the shot targets; there was no particular pattern of shot disbursement within groups. Hits went where ever a particular load's barrel timing put them, but all within a small group. I did shoot some groups with the Rapid Deploy sight set up. They worked well, even at 100 yards. Peep apertures tend to sharpen up images, making it easier to focus on a distant target. Even for me, they would be a good 100 yard hunting set up. No, I will not be posting those targets.
Final thoughts…
"Idiot Wind"
Someone's got it in for me, they're planting stories in the press
Whoever it is I wish they'd cut it out quick but when they will I can only guess
They say I shot a man named Gray and took his wife to Italy
She inherited a million bucks and when she died it came to me
I can't help it if I'm lucky.
No, the song has nothing to do with this story. I've been listening to Bob Dylan since my teens. His lyrics seemed to change, just like life changes, with maturity and life's situations. I always liked this first verse… seems like we've all known that guy, or been that guy one time or another. So why is it here? I occasionally have to unplug myself from a world where the highest ranked singers are Justin Bieber and Taylor Swift so I can regain perspective and think.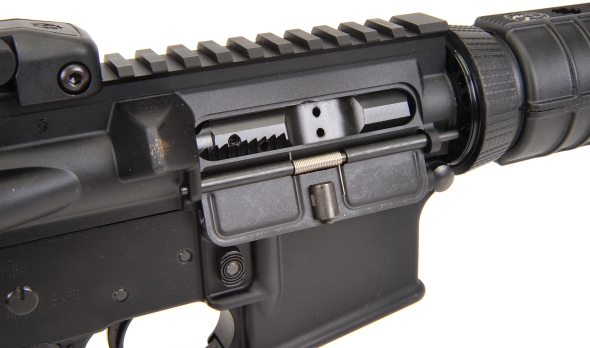 I like the Ruger AR-556 because it is small, light and accurate. The design is well established and well tested, but Ruger's version is built to a very high standard of quality and backed by a company people trust. I like the fact it is made in house, in North Carolina, with American labor and technology and not one of the many M4 types that are a hodgepodge of anonymous third party pieces. I like its personality; load up a mag… pop, pop, pop and repeat… no recoil, low report and lots of bullseyes to reward a little recreational shooting. I like the price; $749 MSRP, which means substantial less at retail.