It was PlayStation 4 that brought me to a state of Mindfulness Meditation. Escaping reality in the broader strokes, living within the confines of Dragon Quest Heroes, I was able to achieve Thales dictum, "know thyself"; an old guy wearing sweat pants and t-shirt, focused and committed to slashing and gashing little gelatinous monsters at 2 AM. Fighting under the pseudonym "Slappy Jack" with mandated support from Slappy Jill, Slappy Fred, and Bob.
Transitioning into an old guy, I find the things I enjoyed as a young man are returning to my life. My wife and I get to spend a lot more time together. We can sit in front of the TV in the evenings and watch Street Outlaws and talk about building another race car without fear of being a negative influence on children or grandchildren. After forty eight years of marriage, we can be a little selfish and hope there will be at least one more fast car before our earthly belonging are parceled out. What does this have to do with Ruger's fine rifles and reader satisfaction? Nothing. You may have missed the point of this preamble.
The design of the Ruger 10/22 began in the late 1950's, a collaborative design from Harry Sefried, Bill Ruger and Doug McClenahan. Commercially introduced in 1964, production began in Ruger's Southport, Connecticut factory not far from the original Ruger Corporation's Station Street Red Barn. In 1970, 10/22 production was moved to the then new Ruger Newport, New Hampshire operation 1). Since that time, multiple millions of Ruger Model 10/22 firearms have been produced in many configurations and grades of finish for civilian and special military and law enforcement applications.
The Takedown Models
The first Model 10/22 Takedown was announced on March 28, 2012 with an 18.5″ standard profile stainless steel barrel. This was followed with the release of a 16.62″ alloy standard profile barrel model with a flash suppressor. The new release has a 16.10″ long, 0.920″ diameter, fluted and muzzle threaded target barrel made of alloy steel.
Model

Ruger 10/22

Takedown
Manufactured
Newport, NH

Caliber

.22 Long Rifle

Action

Autoloading

Operation

Recoil Actuated

Receiver
Matte Black Aluminum

Stock

Black Synthetic
Rotary Magazine

Capacity

10

Barrel Length

16.1″

Barrel Material

Hammer-Forged Alloy Steel

Twist Rate

1:16″ RH

Muzzle Threads

1/2″-28 Threads

Sights

Clean
Drilled & Tapped for Scope
Scope Base Included
Safety
Crossbolt

Weight

5.3 Lbs

Overall length

34.62″

Take Down Length

20″

Pull Length

13.87″

MSRP

$629

Nominal Weights and Measures
Additionally, the target barrel version has a redesigned stock; palm swell, stippled grip surfaces, wider forearm and an interchangeable stock comb feature, straight and Monte Carlo. In fact, the new target version takedown model stock very closely follows the form and dimensions of the Ruger American Rimfire bolt action stock. Nice.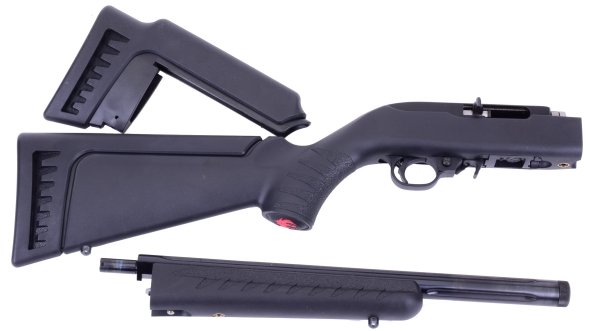 The addition of this configurable stock to the 10/22 is consistent with the theme of the original design. The Ruger 10/22 is modular with pieces parts integrated into subassemblies that are easy to service and change out. In addition to Ruger's after sales performance components, a great deal of third part material is available; magazines, stocks, barrels, triggers, sights and mounts, and modifications that alter the functional personality of the rifle. Like every open architecture systems that invites owner customization, there is a great deal of DIY market enthusiasm for the Ruger 10/22.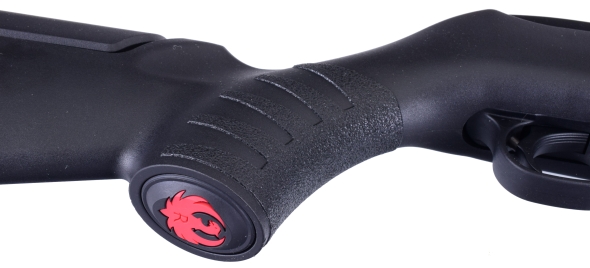 There is a good deal less drop at the stock's comb and heel than prior 10/22 models, even without the Monte Carlo comb in place, which bodes well for a scoped rifle. The forearm and finger grooves are more hand filling and steadying when shooting offhand. The wider pistol grip is more hand filling and the length of pull is a tad greater than prior models. If there is any improvement I could see it would be in putting a tighter pistol grip radius on target models, although for general shooting, the swept grip is probably more appropriate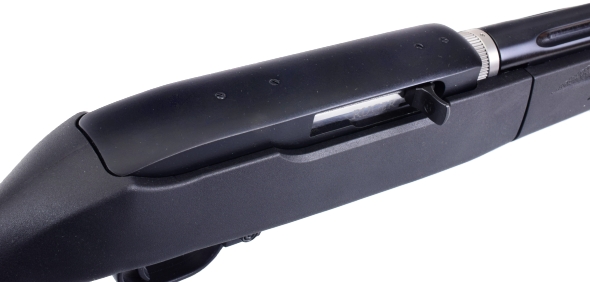 The matte black anodized aluminum receiver is clean and sleek as always and it's light weight contributes to the rifle's overall light weight. The stubby 16″ barrel provides rigidity while keeping weight down and closer to point of balance. The rifle feels light in carry and fast tracking a target.
Using the scope base that is included with the Ruger 10/22 Takedown Target Barrel model, low steel Warnes rings bolted right on with a Leupold scope. What started out at 5 lbs 5 oz empty and came in at 6 lbs 10 oz with a full magazine and scope mounted and suppressor installed. Still a very light package to keep varmints in a state of chaos as they see their comrades falling in slow motion, unable to determine the direction of the shots.

Take Down mechanism…
As a practical matter, the barrel assembly is removed by releasing the locking lever and twisting the barrel counter clockwise approximately 45°. Installing the barrel assembly only requires inserting the barrel into the receiver at the same angle of rotation and twisting it clockwise until it is aligned with the receiver and the locking plunger pops into place.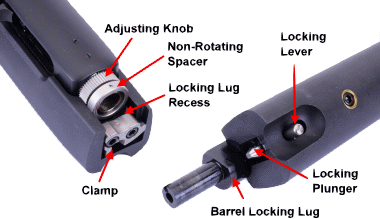 There is one step that is necessary only the first time the rifle is assembled or, perhaps, after a very large number of assembly/disassembly cycles. Before inserting the barrel, the adjusting knob is fully loosened by rotating it clockwise to the end of its adjustment range. The barrel is inserted and twist locked into place, then the adjusting knob is turned counterclockwise until it comes to a stop against the barrel. This assures a tight lock up between receiver and barrel.
Shhh…!
The Ruger 10/22 Target Barrel Takedown… let's just call him Fred for short, has an easy to remove 1/2-28 thread protector which, when removed, exposes a threaded muzzle. Interesting how that all works out.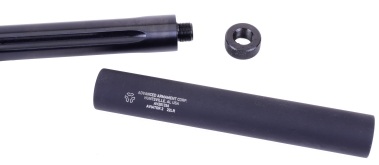 A suppressor of choice screws on and the rifle is ready to go in suppressed form. In this case, a 1″ diameter, non-eccentric Advanced Armament Aviator2 was installed. as it wasn't much larger than the target barrel diameter and it is very efficient.
Live fire
Pictured left, a clear BX 10 round magazine; always handy and safe when wanting to confirm how many rounds are remaining in a magazine. Nifty how the magazine puts so many rounds in such a small space and it does not project from the underside of the rifle.
While the Ruger 10/22 Takedown is supplied with a 10 round, black magazine, accessory magazines are available in 25, 10, 5, 1 black and 10 round clear denominations. All are sold through the Ruger Shop and third party retailers and all are compatible with: 10/22® Rifle, SR-22® Rifle, 22 Charger™ Pistol, .22 LR Ruger American Rimfire® Rifle, and .22 LR Ruger 77/22® Rifle.
I am old and slow so 10 round magazines work for me within my applications, although I would guess 25 round magazines would be fun for varmint hunting and for recreational target shooting entertainment. The 1 shot magazine is ideal for training where it is safer to not have a fresh round chambered after a shot is fired.
At a time when the world seems to run on assessment based on opinion and theory, with a blatant distain for objective data… or even win loss records as in the case of the NY Giants… as they retain a terrible general manager Jerry Reese while firing only failed head coach Tom Coughlin, I still like to count some bullets, check velocity, check accuracy, and keep track of functional failures. To that end I offer this tiny table of big achievement –
Ammunition

Bullet
Weight
Grains
Rated
FPS
Rifle
Recorded
FPS
Pistol
50 Yd
3 Shot
Group"
Subjective
Degree of Suppression

Remington Subsonic

38

1050

806
0.8
Sound of Bolt Cycling

Remington Target

40

1150

1116
0.7
Distant Muffled Sonic Crack

Remington Golden Bullet

40

1255

1152
1.0
Distant Muffled Sonic Crack
The Ruger 10/22 Target Barrel Takedown generated approximately 10 % greater velocity than a Savage bolt action rifle with the same length barrel, both with the same suppressor in place. No, I don't know why. Perhaps the Ruger's cold hammer forged bore or perhaps the Ruger found greater enjoyment being outside in Maine's -9ºF weather? Comparatively speaking, accuracy was excellent, reliability was 100% and the 10/22 digested and cycled any ammunition it was fed.
I cannot quantify suppressed dB. Actually, I could, but you guys aren't worth the $11,000 in equipment costs it would take to deliver such data in credible form and low end meters aren't responsive enough, or have enough level range to provide good data. So we'll go with some creative adjectives. Subsonic ammunition, and we actually shot several brands, produced the dampened sound of the bolt cycling. Let's call it a dull "Whack. Whack" and comfortable without ear production. Not silent, but no muzzle blast or supersonic pressure wave crack.
Target ammo was louder than subsonic ammo even though velocity was below the speed of sound, even after adjusting for temperature and altitude. High velocity ammo was the loudest with the combination of mechanical and pressure wave induced noise. The saving grace was that the Aviator2 exhausts gases forward from the muzzle, so the minor muzzle blast seemed to originate 25 feet forward of the muzzle. Not unlike a ventriloquist throwing his/her voice. It seemed a major reduction in perceived noise and which led to very comfortable shooting.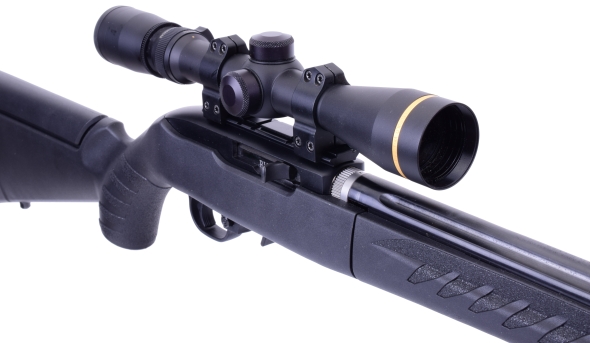 Nice rifle, very adaptable for shooters, environment and applications. Takedown feature is handy for folks who backpack or travel by auto, motorcycle or TSA check a firearm for air travel. Accuracy is very good, reliability is excellent, material selection and finish are top quality. If I had one area I'd like to see improved, it would be the price as it seems just a bit… ambitious. Still, a terrific rifle and perhaps time for me to surrender my 1957 perspective on the cost of things.