The Ruger Bearcat has been around since 1958; the New Model Bearcat since 2002. Bearcats have been made in various combinations of aluminum and steel, sometimes a combination of both. A Super Bearcat version was produced as a stretched cylinder convertible, chambered for the 22 WMR and 22 Long Rifle. The standard Bearcat is currently produced in alloy and stainless steel versions, in both fixed and adjustable sight versions. In addition to factory configurations, there are always special production runs, like this Shopkeeper birdshead version sold through Ruger's distributor, Lipsey's.
So what does one do with a tiny 22 caliber pistol? Oh, you're asking me.
As one of us must have said, the Ruger Bearcat Storekeeper, with its birdshead grip is tiny, as cleverly illustrated by its presence below a full size Ruger Blackhawk Bisley. Not much larger than a derringer or mini-revolver, the Bearcat holds six shots, it is accurate and it stays out of the way when carried. In fact, the moniker "Shopkeeper" is derived from a type of small revolver that a shopkeeper would find easy to conceal.
While I do have a holster for the Bearcat, mine is generally carried in a sweatshirt pocket when I run between house and shop in our dense woodland settings at 1 AM to retrieve needed files from my office computer. The Bearcat is there to dispatch tree rats that are eating holes in the shop or when an animal caught in a trap needs to be finished off, or when gathering the main ingredients for rabbit stew, or to serve in recreational target shooting competition. In fact, it is there when I fish out of the way lakes, ponds and rivers. Holster, sweatshirt pocket or back pocket, the Bearcat's diminutive size assures it is always tucked away.
Two fingers on the front strap makes for a good grip with the hammer in easy reach. Three fingers, for me, tend to place the trigger finger at an acute angle to the bore centerline and make for an awkward pull on the trigger. A two finger grip positions sights level with a natural point. A two finger grip might suggest surrender of some control, but the flat on the birdshead backstrap plants it solidly against the palm for a steady hold.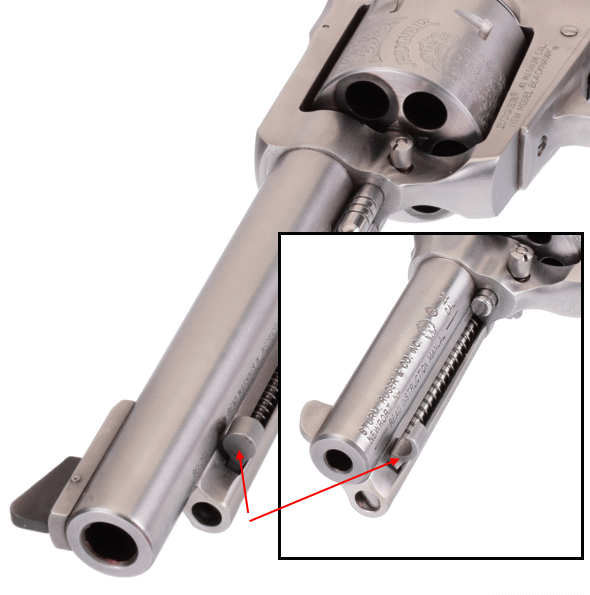 The 3″ barrel Bearcat's ejector rod end in an open crescent to permit extraction of the base pin for cylinder removal. The solid round end, left, is on the Bisley Blackhawk 6″ barrel revolver. In many ways the Ruger Bearcat is essentially a reduced size Blackhawk.
A good use of ammo….
Ammunition

Bullet
Type
Bullet
Grains
Rated
FPS
Chrono
FPS
5 Shot "
50 feet

Remington Target

LRN

40

1150

918

1.8

Remington Golden

Plated LRN

40

1255

1065

2.1

Win Super X

Lead Free

40

1300

938

2.3

Federal Game Shok

Plated LRN

40

1260

990

1.8

CCI Mini Mag

Plated LRN

40

1235

976

2.0

Win Super X

TIN HP

26

1650

1079

2.4

LRN=Lead Round Nose
Wrap it up, Joe. OK, OK, I'm getting there…
Bearcat Shopkeeper

Company

Sturm, Ruger & Co.

Point of Manufacturer

Newport, NH

Model #
00915

Type of Action

Single Action Revolver

Caliber

22 Long Rifle

Capacity

6

Barrel Length

3.00

Barrel Material

Stainless Steel

Barrel Finish

Satin

Rifling Twist Rate

1:16″

Frame

Material

Stainless Steel

Frame Finish

Satin

Grips

Hardwood

Front Sight

Blade

Rear Sight

Integral Notch

Scope Accommodation

None

Weight of Firearm

22.0 Oz.

Overall Length

8″

Overall Height

4″

Width

1.220″

Drop Safety

Transfer Bar

Manual Safety

No

Key Lock

No

CA Certified

N/A

MA Certified

No

MSRP

$693
Despite its small size, the Bearcat is a stout little revolver. The short barrel does give up a bit of velocity, but not as much as might be imagined and the right selection ammunition results in decent velocity. Certainly, there is no loss in lethality.
The action was tight and precise. Opening the loading gate, spinning the cylinder, cocking the hammer, or pulling the trigger, mechanical sounds and resistance felt were positive and uniform. The Bearcat's trigger had a bit of creep, which seemed to go away with use. Trigger pull was a crisp 4 lbs 11 oz as received.
Fit and finish were good. The satin stainless finish was uniform, the hardwood grips attractive well shaped. Ejection of empties was smooth, the base pin to cylinder fit was tight. The machine engraved cylinder is an attractive Ruger tradition and expected on the Bearcat, but I wouldn't mind a plain cylinder version, perhaps even one that is fluted.
For single action firearm training, the Bearcat can fit small hands, its weight is not challenging and it has sufficient accuracy to reward developing skills. In a number of ways, the Bearcat is a good step in a progression toward a full size single action revolver.
Ruger firearms are not cheap; in price or quality, but that is a good thing. I do not purchase a lot of firearms for my personal use these days as I am old, set in my ways and effective with those I already own. So when I do purchase a firearm it must be something special, or a legacy firearm for people who matter to me. This revolver fits well into any of those categories. The Ruger Bearcat Shopkeeper is available to FFL dealers through Ruger's distributor, Lipsey's.