After spending a good deal of time with 243 Winchester, 6.5 Creedmoor and 308 Winchester versions of Ruger Precision Rifle following its introduction, I was curious to see how Ruger would enhance this product. The Precision American is an exceptionally accurate rifle in all calibers, it is a very intuitive firearm to shoot and it requires no special preparation to deliver high levels of performance.
The enhancements to the Precision Rifle are in three areas. Typically equipped with a large objective lens scope, a new handguard eliminates the Picatinny rail at the 12 o'clock position for greater clearance. A wider 6 o'clock keymod flat provides a strengthened mounting surface for a bipod.
Rifles made for long range competitive shooting get shot a great deal, so even relatively mild recoiling cartridges can accumulatively put a little wear and tear on a shooter. The new Ruger Precision Rifle Hybrid Muzzle Brake cuts recoil by as much as 58%. The brake is indexed with a jam nut which eliminates the need for shimming. Unlike traditional brakes, the Hybrid port design reduces sound pressure levels to the sides of the shooter.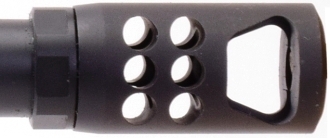 The original poly bolt shroud was replaced with an aluminum billet piece, something more consistent with the overall quality of the Precision rifle. The shroud continues to house bolt disassembly and trigger adjustment tools. Maybe Ruger will offer shrouds in a variety of bright anodized colors for a little custom touch.
Ruger's Precision Rifle

Manufacturer

Ruger, New Hampshire

Model #

18008

Type

Bolt Action MSR

Caliber*

6.5 Creedmoor

Magazines Supplied

2×10 Round

Barrel Length*

24.0″

Rifling

1:8 5R

Receiver Material

4140 CM

Lower Magazine Halves

7075-T6 Type III Anodized

Weight – Nominal

10.6 Lbs

Height Grip Bottom To Rail

7.3″

Width at Bolt Handle
3.3″

Overall Length

46.75″

Folded Length

34.60″

Stock

Folding, Adj. Comb & Pull

Comb Height Adjustment

+0.75

Comb Fore/Aft Adjustment

3.5″

Length of pull

12″ to 15.5″

Sights

None

Scope Mount

20 MOA Picatinny Rail

Trigger – Ruger Marksman

Adj. 2.25 to 5.0 Lbs

Safety

Reversible, Rotating – 2 Position

MSRP

$1599

l*Also offered in 243 and 308 Winchester
A little more detail…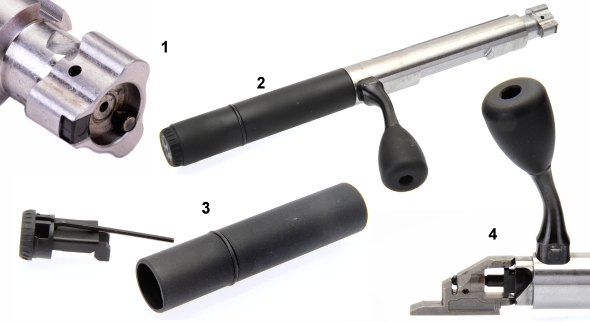 1) The Precision Rifle has a cartridge case head enclosing, tri lobe bolt head and a 70° bolt lift. 2) the enhanced aluminum bolt shroud. 3) The new aluminum shroud with the bolt tool removed, including a trigger adjusting Allen wrench. The O Ring fits in a shallow groove cut in the shroud and serves to tighten the fit between the shroud and the receiver bore for a smoother bolt throw. 4) The dual cocking cams that ease bolt cycling effort required.
Improved scope clearance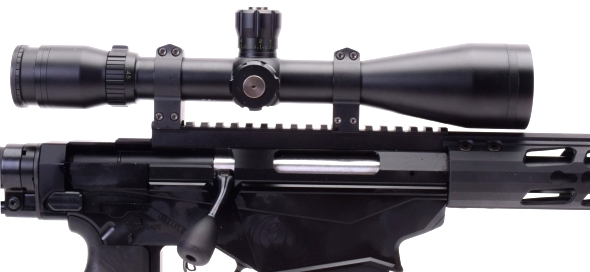 To support the Precision Rifle's long range application, its Picatinny rail has 20° of built in elevation to help keep a scope's elevation nearer to a neutral adjustment. The receiver rail is removable and can be changed to a 0 MOA component if desired. The original handguard 12 o'clock rail removal really helps with clearance. Combining the shallow 70° bolt lift and clean handguard, this 30mm tube, 30x scope, with large eyepiece and 58mm objective bell clears with medium height Warne steel rings.
Addressing the muzzle brake conundrum
The medium contour barrel of the Ruger Precision Rifle muzzle has 5/8″-24 threads. The brake is easily removed and replaced, a thread cap can be substituted. The barrel material is 4140 alloy steel, bore, grooves and chamber are minimum spec dimension.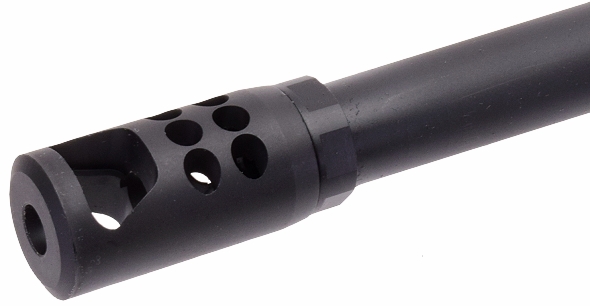 Most recoil is secondary or jet recoil; the result of gas pressure and velocity leaving the muzzle. A brake diffuses, slows and cools gases but, because the gases are vented to the air, sound pressure levels are are typically significantly louder than a firearm without a brake. The Ruger Hybrid brake with its unique port design is very effective in cutting recoil, but without increasing side sound pressure levels. An important factor during competition, recreational range shooting or hunting.
Retains the unique features of the original
The morphing Transformer like stock remains; adjustable for pull length, cant and comb elevation. It is adjustable to fit the individual shooter as well as the circumstance. Folding reduces the overall length of the rifle for easy transport, from 46.75″ to 34.60″.
Same excellent trigger and good magazine compatibility…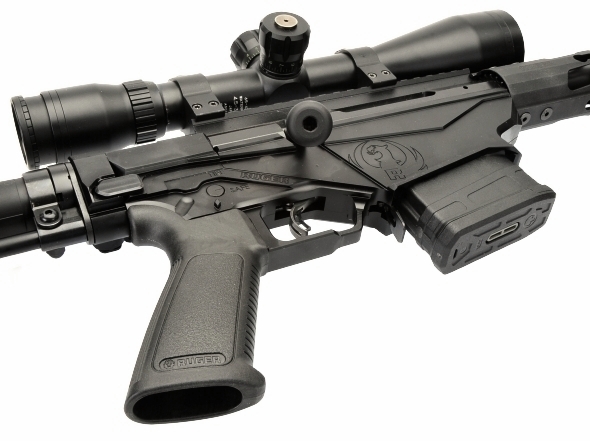 The Precision Rifle trigger is very clean and with a wide range of adjustment for pull. It is compatible with M110, SR25, DPMS and Magpul and AICS magazines which of course makes for lots of magazine types from which to select. The Ruger Precision Rifle's mechanical design detail was covered extensively in a prior article. It is a firearm with many unique facets that contribute to its outstanding accuracy and well worth a look.
Live fire… the end of the rifle that matters
Ruger touts the Precision Rifles performance at 1,600 yards. I do not doubt, for one second, the veracity of that representation. Unfortunately, I am chained to a more earthbound 300 yards… without bringing in a Bobcat, a brace of Husqvarna chain saws and brush cutters and deforesting. For me, even three hundred yards brings in factors other than a firearm's mechanical accuracy; angle of inclination, elevation and wind just to name a few. So we stretched out the typical 100 yard review range to 300 in deference to the rifle's long legs.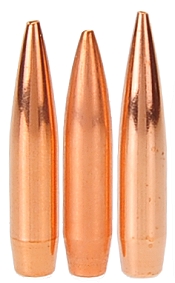 This is about the 6th or 7th handload project with the 6.5 Creedmoor, loaded for Ruger Precision, Target and Predator rifles. In this case we are dispensing with the component bullets that are not specifically offered for long range application, which included some approximately 140 grain bullets and virtually all lighter weight bullets. Which leaves us with, pictured left to right / table top to bottom –
Bullet

Type

Application

Weight

Length

Handload
COL

Lapua Scenar-L 4PL6019

HP

Target

136

1.355

2.825

Nosler Custom Comp 26725

HP

Target

140

1.310

2.780

Berger Long Range 26409

HP

Target

140

1.400

2.800

All of the above cleared rifling
Along with the bullet selection, powder selection was narrowed to what has worked for us in terms of consistent velocity and point of impact. They are common types and typically readily available. Shot from a bench steady rest.
I am not inferring any of the many 6.5mm bullets cannot or should not be used in concert with the Ruger Precision Rifle. They will all work and they will all result in a high degree of accuracy within their applications, whether hunting or punching holes in targets. I just could not get people to leave me alone for a month to play with factory ammo, handloads and the Ruger Precision Rifle. Killjoys…
Warning: Bullet selections are specific, and loads are not valid with substitutions of different bullets of the same weight. Variations in bullet material and length will alter net case capacity, pressure and velocity results. Primer selection is specific and primer types are not interchangeable. These data represents maximum loads in our firearms and test equipment and may easily be excessive in other applications. All loads should be reduced by 5%, and developed following safe handloading practices as represented in established reloading manuals produced by component manufacturers. Presentation of these loads does not constitute a solicitation for their use, nor a recommendation.


Cartridge: 6.5 Creedmoor

Firearm: Ruger Precision

Min – Max COL: 2.700″ – 2.825″

Bullet Diameter: 0.264″

Primer: CCI 200

Barrel: 24″

Reloading Dies: Hornady

Max case length: 1.920″

Groups: 3 Shots – 100 Yards/300 Yards

COL and Capacity





Load Data & Performance

Bullet


Type

Bullet
Weight

C.O.L.
Inches

Net
Grains
Water





Powder

Charge
Grains

MV
Recorded
FPS

Muzzle
Energy Ft/Lbs.

100 Yard
Group
Size "

300 Yard
Group
Size"

Lapua Scenar-L

HP

136

2.825

47.8

Hybrid V100

42.5

2777

2329

0.6

2.1

Lapua Scenar-L

HP

136

2.825

47.8

Norma URP

43.0

2805

2377

0.7

2.0

Lapua Scenar-L

HP

136

2.825

47.8





Re 17

44.0

2958

2643

0.7

2.2

Nosler Custom Comp

HP

140

2.780

47.4




Hybrid 100

42.5

2789

2419

0.5

1.8

Nosler Custom Comp

HP

140

2.780

47.4

Norma URP

42.5

2726

2311

0.7

2.4

Nosler Custom Comp

HP

140

2.780

47.4

Re17

43.5

2913

2639

0.9

2.3

Berger Long Range

HP

140

2.800

46.9





Hybrid V100

42.5

2759

2367

0.7

1.9

Berger Long Range

HP

140

2.800

46.9

Norma URP

42.5

2742

2338

0.4

2.5

Berger Long Range

HP

140

2.800

46.9

Re 17

43.0

2898

2611

0.6

2.2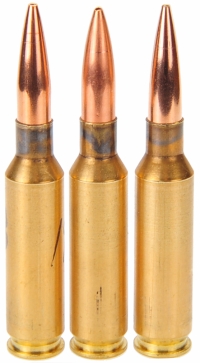 For folks who frequent gun forums where a typical exchange is (…and this is real) "I picked up a new rifle today and I had some old ammo… not sure what the loads were, but the best I could shoot was 1/4″ 15 shot groups at 100 yards", to which the reply was, "Most will agree, a single hole group at 200 yards is good, but for hunting accuracy, my Remington Ultra Mag shoots 1″ at 535 yards". For context, just divide real world numbers by 5 to get to an Internet La-La Land equivalency.
Personally, I thought for being in a place where there is air, mild crosswinds, geothermal variations and an old guy hanging off the back end of the rifle, the Ruger Precision Rifle did a great job and the experience was a lot of fun.
Under the heading of, "Thanks for telling me, but why?" Compared to predictive software results, Hodgdon Hybrid V100 and Norma URP clocked a few fps under and Re 17 clocked slightly above. None of it strayed more than 40 fps in either direction.
During all of the shooting, the smell of smokeless powder filled the air, the Hybrid brake coughed up a somewhat muffled report and many paper targets lost their lives. Additionally, there was severe grousing about walking distances of uncommon length in the course of target retrieval… all originating from me. That said, no primers fell out, no brass was difficult to extract and no sign of a bolt sticky when cycling. For those who like to read before and after brass dimensions, I offer the following:
Case

Headspace"

Case Diameter
Above Extractor
Groove "
Case Diameter
At Shoulder "

Start – Full Length Resized

1.539

0.469

0.460

1

1.538

0.470

0.464

2

1.538

0.470

0.464

3

1.540

0.470

0.464

4

1.539

0.470

0.464

5

1.538

0.470

0.464

6

1.540

0.470

0.464

7

1.539

0.470

0.464

8

1.538

0.471

0.464

9

1.539

0.470

0.464

Hornady Factory Ammo

1.533

0.466

0.457

Once Fired Factory Brass

1.538

0.468

0.464

Headspace Shoulder Reference Diameter 0.400″, same as 308 Win Series
SAAMI Cartridge Headspace 1.5438″ + 0.000″/-0.007″
SAAMI Case Diameter Above Extractor Groove 0.4703″ +0.002″/-0.000″
SAAMI Shoulder Diameter 0.4630″ +0.002″/-0.000″
Ruger indicates that they set minimum size chambers. I would have to agree and results, despite significant changes in load components and a pressure swing of perhaps 6,000 PSI, changes to case dimensions remained very consistent. I am sure this must contribute greatly to the Precision Rifle's accuracy. Is there greater precision to extract from the Ruger? Surely. It takes time to develop and finesse ammunition and there are lots of shooters with better nerves and eyesight.
And with the NFL draft beginning in twenty minutes…
The Ruger Precision Rifle is an excellent turnkey long range rifle; 1600 yards is the number pegged by Ruger. Terrific rifle for the range, excellent competition piece and something special for the long range hunter in circumstances where the rifle's 10 Lb weight is of no concern. The rifle is adjustable to fit almost anyone, precisely and for any shooting position, the bolt cycles smoothly and the trigger feel surpasses others that have seen a couple of hundred dollars worth of quality gunsmith time.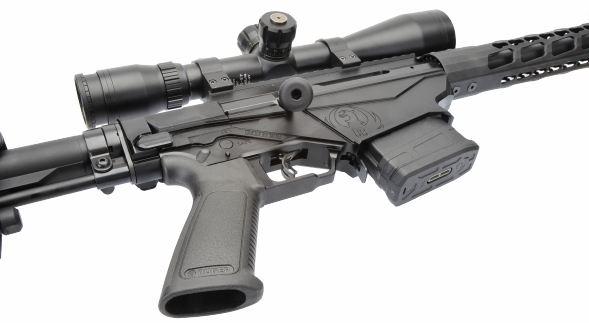 For folks who like to tailor a firearm to suit their aesthetic sensibilities, they can take a run at the replaceable bolt handle, the AR compatible pistol grip and what ever shade of AR compatible handguard comes to mind. The Precision Rifle is a machine, a very interesting, intricately designed, well made machine. If you have the opportunity, try it. It will put a smile on your face.