I would not suggest that the Ruger Mark IV is the answer to a rimfire pistol shooter's prayers, but I have heard that just owning one has thickened thinning hair, whitened teeth, increased IQ by multiple digits, and created an almost magnetic attraction to applicable gender. I can't, or won't speak to those causations, but I will say that shooting one makes me smile and remember what it felt like to be a young man of sixty five. That said, the Ruger Mark IV is no vacuous beauty.
Ruger Mark IV Target

Company

Sturm, Ruger & Company, Inc.

Point of Manufacturer

Prescott, AZ U.S.A.

Model #

40159

Description

Mark IV Target

Type of Action

Autoloader SA

Caliber

22 Long Rifle

Magazine Capacity

10

Barrel Length

5.50″

Barrel Material

Blued Alloy Steel

Barrel Contour

Bull

Rifling Twist Rate

1:16″ RH

Receiver Material

Blued Alloy Steel

Grip Frame Material

Aluminum

Frame Finish

Black Satin Anodized

Grips

Target Laminate

Front Sight

Fixed Undercut Blade

Rear Sight

Adjustable W/E

Weight of Firearm

35.8 Oz.

Overall Length

9.75″

Overall Height

5.50″

Widest Point

1.440″ Grip

Manual Safety

Thumb – Ambidextrous

Magazine Disconnect

Yes

Loaded Chamber Indicator

No

Key Lock

No

CA/MA Approved

No/Yes

MSRP

$569
The subject pistol, Model # 40159 is the third Ruger Mark IV type we have examined; the Ruger Mark IV Target Model # 40101 and Ruger Mark IV Competition Model # 40112 the other two. All models share the same refinements over the earlier Ruger Mark III product line.
Field stripping is accomplished with a one touch button at the rear of the frame; the barrel and receiver tip down and lifts off and the bolt pulls free of the receiver. No tools required.
The new one piece grip frame is CNC machined from a solid piece of aluminum.
The hammer, sear, bolt and firing pin are refined.

The bolt stop has been reshaped, the little Mark III thumb safety numb has been replaced with a more traditional ambidextrous thumb safety. The Mark III loaded chamber indicator is gone, as is the internal key lock.
The magazine release has been extended and magazines now drop free when released.
The one piece barrel/receiver assembly and internal bolt design is retained. The Mark IV maintains compatibility with Mark III sights, scope mounts and magazines.
Designed for accuracy

The Mark IV's barrel is threaded into its cylindrical receiver, its internal bolt is also cylindrical… a high degree of concentricity, that leads to a high degree of rigidity and precision alignment along a longitudinal axis. The barrel is fixed, the receiver is fixed, the sights are fixed. Only the bolt moves inside of the receiver. The result is repeatable accuracy.
Below, two versions of the Mark IV Target, one with oversize laminated target grips, one with standard panels. I favor the grip angle of a 1911 type pistol over the more swept grip frame angle of the Mark IV… or III or II, only because I have to work… practice, to have the pistol come up on target with sights on the same plane.
Typically, the pistol ends up muzzle high and in a high grip. Ruger addresses inflexible shooters like me with the Ruger 22/45 which has a 1911 type grip angle. The Mark IV offers another solution in the form of a target grip. The forward protruding top finger groove levels the barrel in a high grip while retaining the comfortable swept grip angle. For me, this is the best solution and the target grips are available for any Mark IV, regardless original configuration.

The Ruger Mark IV has excellent target sights. The front, fixed blade is ramped and back cut to reduce glare, the rear u notch sights are micro adjustable for windage and elevation. The rear aperture is embossed to kill glare and sharpen image. Ruger also offers a number of replacement sights including V notch rear and fiber optic. Mark III and IV sets are compatible. The top of the Mark IV receiver is drilled and tapped to accept rails and other forms of optical and electronic sights.
Proper control position and simplification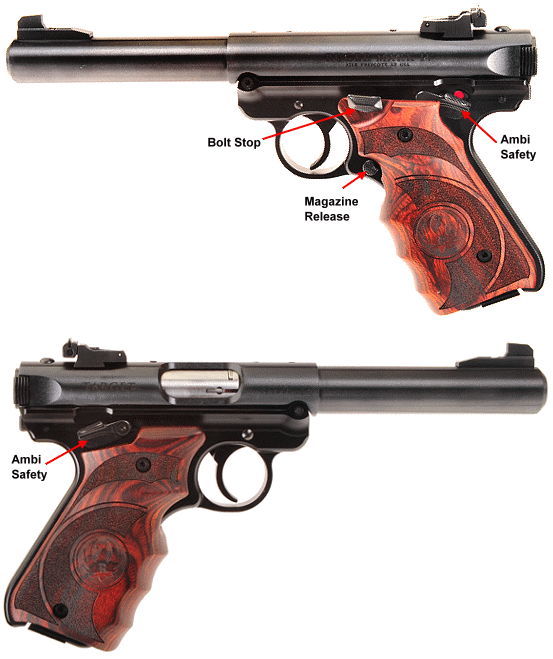 Key lock and loaded chamber indicator mechanisms of the Mark III were dropped and a true ambidextrous thumb safety added. Everything is within easy reach. Some may find the downward stroke of the thumb safety interferers with a shooting hand. For these folks, Ruger includes a bushing that replaces the right side thumb safety.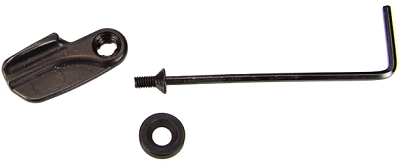 And then with bullets…

Ammunition
Bullet
Weight
Grains
Bullet
Type
Mfg
24″
Rated
FPS
Ruger
5.50″
Actual


FPS

50 Ft
5 Shot
Group"

Remington Cyclone

36

HP

1280

1081
1.0

Eley Subsonic

40

RN

1040

9

73
0.7

Remington Golden Bullet

40

RN

1255

954
0.8

Remington Target

40

RN

1150
906
0.6
Winchester Super X

40

RN

1

300

10

77
1.1
CCI Mini Mag
40
RN
1235
1106
0.7

Chronograph 10′ from muzzle – Groups shot from a sandbag rest
Factory ratings for SAAMI specification 22 Long Rifle ammunition are predicated on 24″ long barrels with a 6 groove 1:16″ twist, recorded with chronograph screens 20′ apart. Much more criteria can be referenced at the SAAMI site. Consumer chronographs typically have fast enough processor speed, however, screen spacing is typically in the 18″ to 3′ range which diminishes accuracy of readings and makes them more susceptible to alignment and distance from muzzle errors. I can say we are careful with alignment and distances and we do have chronographs routinely calibrated.
The difference in velocity between test barrel and 5.5″ Ruger Mark IV barrel is pretty much irrelevant for a number of reasons. The Remington Golden Bullet ammunition, a type showing significant barrel length influence, generates 140 ft/lbs of energy from a 24″ barrel and 81 ft/lbs at 5.5″ barrel length. Unless a squirrel or rabbit is wearing a bullet proof vest, there will be no appreciable difference in the degree of death when impacted.
At fifty yards with sights adjusted for a +/- 1.5″ maximum ordinate for each firearm, drop at fifty yards is 1.4″ @ 1,255 fps and 1.2″ @ 954 fps, Yup, that is correct, the 954 fps round gets there by pushing closer to the +1.5″ ordinate, but still inside the 1.5″ limit.
Recoil, while not appreciable, is present and has an effect on a shooter's ability to consistently place shots. I offer into evidence the fact that target ammunition is always on the slower side to maximize bullet stability and to minimize muzzle jump… "Muzzle flip" to Y/Millennium and Z generations.
Shooting impressions…
The Ruger Mark IV Target with 5.5″ barrel has excellent balance. Not exactly neutral under the trigger, but a tad stabilizing nose heavy, The trigger is a bit heavy at a measured 4 lbs 14 oz. Free play, or take up, before sear engagement is approximately a 1/4″. There is approximately 1/8″ of creep once the sear is engaged; the pull is not in the least bit rough, but it is felt. There is no facility for adjusting overtravel, however, overtravel is minimal to none.
I had no problem adapting to the trigger's personality as its function is well within the parameters of new firearm familiarization. For folks who want to refine the Mark IV's trigger function, solid companies like Volquartsen offer drop in kits that include target shooting refined: hammer, hammer bushing, sear, trigger with plunger and spring. The replacement trigger also adds pretravel and overtravel adjustments. Installation cuts trigger pull to approximately 2.5 lbs and eliminates the magazine disconnect function.
My experience has been that the Volquartsen kits does as it states and they are easy to install. My rimfire pistol applications are limited to small game hunting, pest control and recreational target shooting. Subsequently, the kits are usually pulled after a short time because the pull is too light for general use and I like a little resistance in pistol triggers.
Fit and finish is excellent; uniform and well blended from steel to aluminum pieces and uniformly black. Parts, metal and laminate, are cleanly finished. Controls are positive in actuation, so nothing will flop where not intended and all will stay in place in heavy use.
The sight picture is crisp and not lost even on black backgrounds. Adjustment is uniformly incremental and adjustments stay put. It is a solid rimfire pistol that will deliver exceptional performance for a life time, then serve generations to follow. Nice job done by Ruger, design and execution.