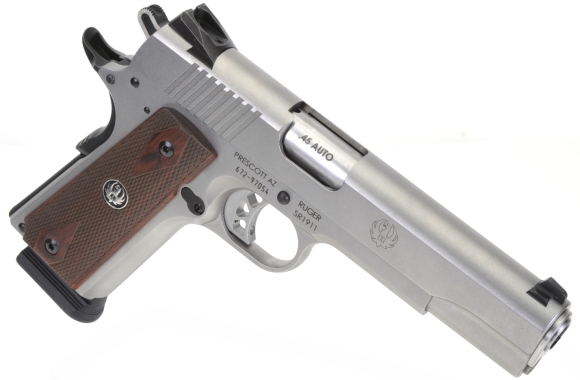 Creation of the Ruger SR1911 product line was quite an accomplishment. In a market not lacking in competition, Ruger jumped in with a quality, traditional anchor product and then, over a period of six years, let the line evolve into a comprehensive offering. Full length, Commander length, standard weight stainless steel frames, lightweight aluminum frames, 45 Auto, 9mm Luger, and 10mm Auto. All are 70 Series types, sans trigger plunger.
My guess, a good part of the SR1911's appeal is Ruger's restraint in design. In fact, the SR1911 is compatible with standard 1911 accessories, replacement and enhanced parts as well as gunsmith approaches, tooling and gauges. Still, while the SR1911 be supplied with the double diamond grips and steel straight mainspring housing, that does not mean time proven 1911 type accuracy, ergonomic and reliability enhancements have not been implemented.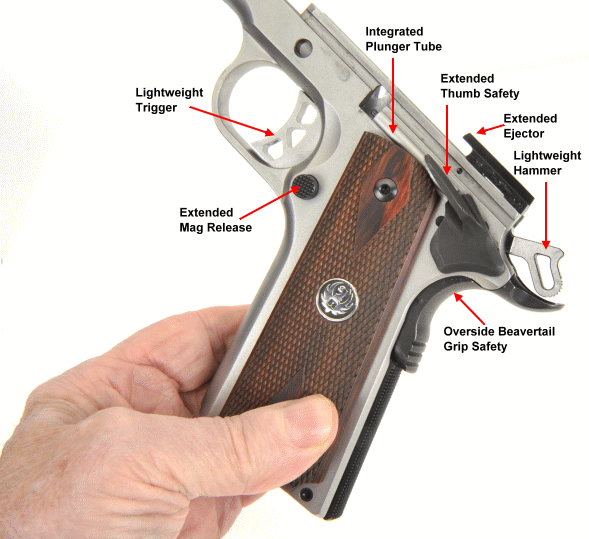 All enhancements with purpose; extended ejector compliments opened ejection port for better directional control of ejected empties, ejection assurance with modern ammo and eases clearing loaded rounds. Integration of safety plunger tube into frame makes for no staked pins loosening and more positive, safe operation. Light trigger minimizes trigger bounce and chances of inadvertent doubt taps. Lightweight hammer reduced lock time and reduced stress and wear on fire control components. An extended magazine release permits release without shifting grip in many cases. The oversize beaver tail safety makes from positive release with a firm, but reasonable grip and it shields the web of the hand from the slide.
Ruger elected to go with a Novak standard set of sight dovetails to facilitate adjustment, maintenance and interchangeability with a wide array of sight types. SR1911 models with adjustable target sights follow the Bomar mounting standard. Not show, the barrel feed ramp to frame alignment is clean and polished, but not in a way that would reduce case support.
Nothing unfamiliar to 1911 type enthusiasts, but there are differences other than what has already been noted. The slide contains a titanium inertial firing pin which reduces lock time, speeds firing pin retraction and reduced bounce. The frame has a modest bevel to make magazine insertion easy. The lightweight trigger has over travel adjustment. The barrel and barrel bushing are made from the same bar stock and on the same machine for greater consistency. The barrel link is swaged so it doesn't fall out when the pistol is disassembled. I know, "not needed". Tell me that after you've spent two hours crawling around on a floor looking for one that rolled off the work bench.
Yeah, I know, "Where are you headed?"


After shooting every version of the Ruger SR 1911 with some frequency and with both handloads and factory ammunition, I've come to appreciate them for their accuracy, reliability and durability. Each type brings a little different personality: SR1911 10mm, SR1911 45 Auto Commander, SR1911 Lightweight Commander 9mm Luger and each is optimized for specific applications. It is reasonable that a considered selection, would yield a perfectly suited model, that would require no more attention than practice shooting and the occasional cleaning. But things change, people and circumstance.

The SR 1911 is a high grade 70 Series type 1911. Therefore, the SR 1911 can be adapted to changing situations and applications and its standard 1911 dimensions make it open to receive current and future developments in both Ruger and third party parts and accessories. Sights, controls, triggers, springs, controls, grips… even caliber changes and all without permanent modifications to the pistol.
So where to begin modifications to gain reliable performance? Nowhere. The pistol works without a hitch as shipped in any of the forms previously noted, but changes will be made to this particular example for my own education, the enjoyment of experimentation and for the sake of personal gratification.