Ruger 22/45 LITE

Manufacturer

Sturm Ruger
Model #
3906

Type

S/A Autoloader

Caliber

22 LR

Mag Capacity

10

Barrel Length

4.4″
Rifling

1:16″

Threaded Muzzle

1/2″x28

Weight

22.70 Oz
Receiver
Aluminum
Grip Frame

Zytel® Polymer

Overall Length

8.50″
Overall Height
5.50

"

Width

1.00

Sights

Adjustable Rear W&E

Safety

Thumb + Internal Lock

MSRP

$515

Nominal Weights & Measures
The Ruger 22/45 Lite is a good representation of Ruger's ability to innovate and evolve.  At just twenty-three ounces, the Ruger 22/45 LITE weighs ten ounces less than the standard Model 22/45 and is approximately half the weight of a Mark III target model. Ruger got to that light weight by fitting an aircraft aluminum receiver to the Model 22/45's Zytel® Polymer frame that extends into a ventilated shroud over a pencil thin barrel. The muzzle end of the LITE has 1/2-28 threads to accommodate suppressors, compensators and brakes.
Weight reducing aluminum receivers are a popular modification to Ruger and other brand rimfire autoloaders. By packaging the Model 22/45 product in this manner, for an approximately $50 increase over the standard steel version of the threaded barrel gun, Ruger saves Model 22/45 customers the $250 – $350 expense of purchasing an aftermarket aluminum receiver and the hassle of an ATF controlled purchase. With Ruger doing the assembly, there is the further assurance of a good fitting assembly rather than an aftermarket part's more generic fit and full coverage under warranty.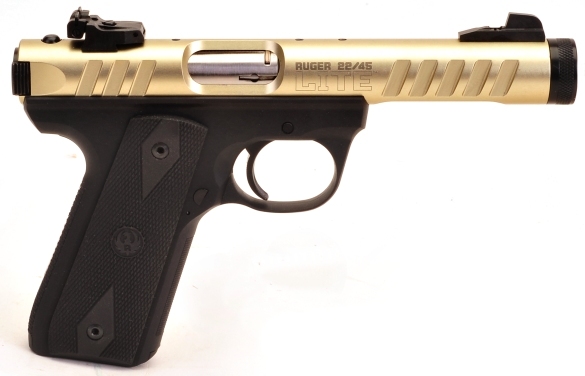 Above, coverage of the initial model; good shooter but just a tad…. festive in color for my taste. The first two iterations were the only versions without shroud venting. The second issue below remains aesthetically my favorite. The combination of longitudinal shroud fluting, black anodized and laminated grips all work well together.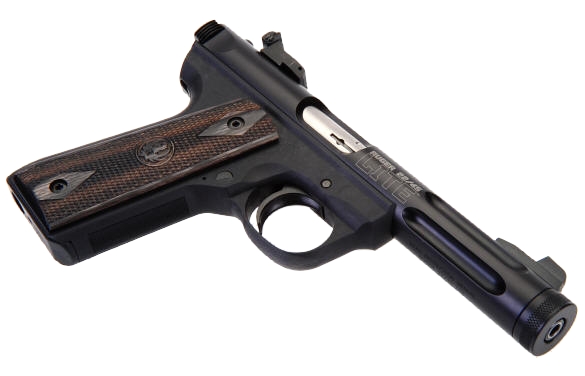 Safety first… second, third, fourth
The Ruger 22/45 Lite is laden with safety figures. There are people who don't like safety devices on firearms, they are the same folks who appear in red in table saw manuals under the heading, don't press the spinning blade against your face, and in the step ladder manual as a falling stick figure under the header, don't drink and use this ladder. In addition to the safeties noted, the Ruger 22/45 also has a magazine disconnect that prevents the pistol from being fired with the magazine withdrawn.
The Ruger 22/45 has a good set of adjustable sights, windage and elevation and the receiver top is drilled and tapped for a rail to facilitate mounting other types of sighting devices. The front sight can be easily changed to the fiber optic front sight offered at the Ruger Store and other aftermarket suppliers.
Suppressing the subject at hand…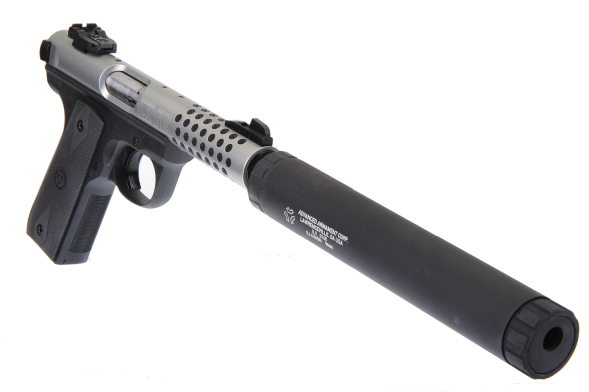 A project was in progress for the Advanced Armament Corp's Illusion 9, we had the Ruger Lite on hand, so it was only a matter of time before a thought bubble put the two together. The line on the silencer is that while it is a very effective 9mm silencer, it will also suppress 22 rimfire report as well as s dedicated 22 rimfire bore silencer. If the AAC seems to challenge the laws of proportionality, in this case it does.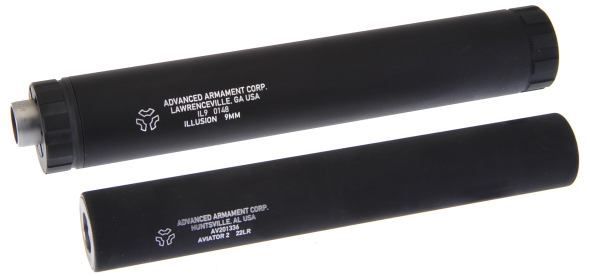 With enough capacity to suppress a 9mm Luger round effectively, the Illusion 9 is light, fits the Ruger well, but it significantly increases the 22/45 Lite's envelope. If I had a 9mm autoloader and added a Ruger Lite to my shooting arsenal, I would feel no compunction using the Illusion 9 on both. However, if I wanted only to suppress only a 22 rimfire, I would probably opt for the compact Aviator 2.
Numerically speaking… sort of
While small of cartridge, .22 rimfire chambered firearms are not very quiet and the shorter the barrel, the higher the sound pressure. A 4″ barrel handgun, just 0.4″ shorter than the subject pistol, has a sound pressure level of 155 dB. The Illusion 9 cuts this down to 117 dB, the Aviator2 reduces report to a sound pressure level of 115 dB. That said, with suppressor in place and shooting subsonic velocity ammunition, a rimfire does not sound as loud as the 115 dB rating would suggest, but what remains is the clackity, clack of the mechanical parts as the firearm cycles. You will not sneak up on a varmint, but using a silencer will be kind to your ears and hearing and you won't alienate your neighbors with weekend target practice.
The Ruger 22/45 Lite was fired with three types of rimfire ammo as indicated, Illusion 9 suppressor in place. Velocity was statistically unchanged from unsuppressed. –
Ammunition

Bullet
Weight
Grains
Rated
FPS
Rifle
Recorded
FPS
Pistol
50′
5 Shot
Group"

Remington Subsonic

38

1050

786

1.3

Remington Target

40

1150

934

1.0

Remington Golden Bullet

40

1255

1040

1.5
Only one type of ammo was factory rated subsonic, below 1150 fps at sea level, all were subsonic when pushed through the short 4.4″ barrel. None generated a sonic wave sharp cracking sound, all were somewhat muted, the slower the more quiet. I was unable to discern a difference in the sounds of mechanical actuation. Accuracy was good and the 22/45 Lite cycled with all ammo and the bolt locked open on empty. The trigger has a clean, light pull, the 1911 like grip angle is ideal… for me.
But I don't own a silencer…
Wimp! Kidding, just kidding. Suppressors aren't for everyone as some regions have more zombies than other and the need for noise abatement varies. Without a silencer, what's left is a lightweight, very accurate and reliable rimfire autoloader that can be carried all day without notice and can be very helpful in training those junior marksmen. For prior coverage of the Ruger 22/45 Lite or stop by the Ruger site for information on the Lite and other current versions of the Ruger 22/45.