My wife and I are currently flopped on the living room sofa and on the verge of serious napping. The effects of Saturday lawn mowing and dethatching and tree planting. There are only so many attachments that can be hung on a tractor before manual labor rears its ugly head.
One of my favorite books is Knut Hamsun's "The Growth of the Soil", the 1920 Norwegian equivalent of the 1962 American film "How the West Was Won" and the origins of the 1982 Dire Straits song "Telegraph Road". In fact, it was the Hamsun book that took us to Maine with the thought we would mold and shape this rural property to suit us and our family.
Unfortunately, working the land and developing property is not a part time endeavor. So we work at full time jobs, spend the weekends on smaller projects and always enjoy the privacy and independence of rural living. This summer we have visiting family, children and grandchildren, and for that time our home and the surrounding woodland will be used in the manner we intended.
The Ruger Precision – A developing theme
The Ruger Precision Rifle was introduced in July 2015, however, its lineage can be traced back to the Ruger American Rifle which was introduced on January 2, 2012 as they share a common core design, both quite a departure from the Ruger Hawkeye product line. Detailed coverage of the Ruger 1,600 yard 6.5 Creedmoor shooter can be found at:
A Ruger Precision Rifle In 6.5 Creedmoor
Ruger Enhances Its Precision Rifle
Ruger's Precision Rifle

Manufacturer

Ruger, New Hampshire

Model #

180

19

Type

Bolt Action MSR

Caliber

5.56 NATO/223 Rem

Magazines Supplied

2×10 Round

Barrel Length

20.0″ / 5/16″-24 thread
Rifling
1:7 5R
Receiver Material
4140 CM
Lower Magazine Halves
7075-T6 Type III Anodized

Weight – Nominal

9.8 Lbs

Height Grip Bottom To Rail

7.3″

Width at Bolt Handle
3.3″

Overall Length

39.35″ – 42.75″

Folded Length

31.60″

Stock

Folding, Adj. Comb & Pull
Comb Height Adjustment
+0.75
Comb Fore/Aft Adjustment
3.5″

Length of pull

12″ to 15.5″

Sights

None

Scope Mount

20 MOA Picatinny Rail

Trigger –

Ruger Marksman
Adj. 2.25 to 5.0 Lbs

Safety

Reversible – 2 Position

MSRP

$1599
l

* Also offered in 6.5mm & 6mm Creedmoor and 308 Winchester
The subject rifle is a small bore, 5.56 NATO – 223 Remington. Other than caliber, it shares all of the terrific attributes of the larger bore Precision Rifles including accuracy, adaptability and long reach. In addition, the small bore adds low cost, factory and handloaded ammunition in ranging varieties and virtually no recoil.
An intricate and interesting piece of machinery…
The thing to keep in mind is that the center of the Precision Rifle's universe is its receiver, it is not a chassis rifle. The receiver carries the barrel and handguard assembly, the nifty swing fold buttstock and it mounts the fire control mechanical pieces. The lowers only serve to mount the grip and to receive the magazine.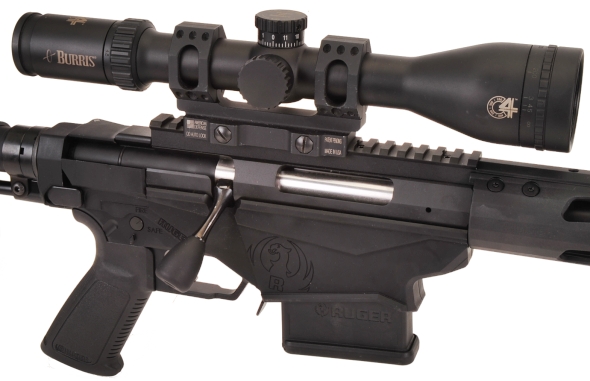 To support the Precision Rifle's long range application, its Picatinny rail has 20° of built in elevation to help keep a scope's elevation nearer to a neutral adjustment. The receiver rail is removable and can be changed to a 0 MOA component if desired. The omission of a 12 o'clock rail removal really helps with clearance. Combining the shallow 70° bolt lift and clean handguard, this 30mm tube, 30x scope, with large eyepiece and 58mm objective bell could have easily been mounted with medium height rings.
Short action, long bolt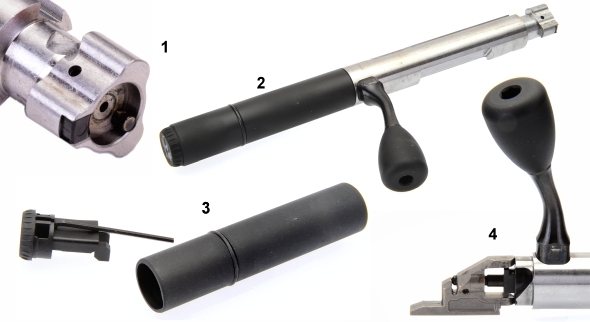 1) The Precision Rifle has a cartridge case head enclosing, tri lobe bolt head and a 70° bolt lift. 2) an aluminum bolt shroud. 3) The shroud with the bolt tool extracted, including a trigger adjusting Allen wrench. The O Ring fits in a shallow groove cut in the shroud and serves to tighten the fit between the shroud and the receiver bore for a smoother bolt throw. 4) The dual cocking cams that ease bolt cycling effort required.
Dampening recoil and muzzle jump
The medium contour barrel has 5/16″-24 muzzle threads. The brake is easily removed and replaced, a thread cap can be substituted. The barrel material is 4140 alloy steel, bore, grooves and chamber are minimum spec dimension. Note, the photo was shot with the rifle laying on its side. The port brakes are indexed to 3 o'clock and 9 o'clock positions.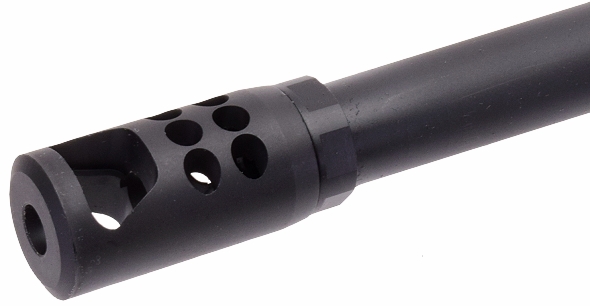 Most recoil is secondary or jet recoil; the result of gas pressure and velocity leaving the muzzle. A brake diffuses, slows and cools gases but, because the gases are vented to the air, sound pressure levels are typically significantly louder than a firearm without a brake. The Ruger Hybrid brake with its unique port design is very effective in cutting recoil, but without increasing side sound pressure levels. An important factor during competition, recreational range shooting or hunting.
A folding stock and other forms of street magic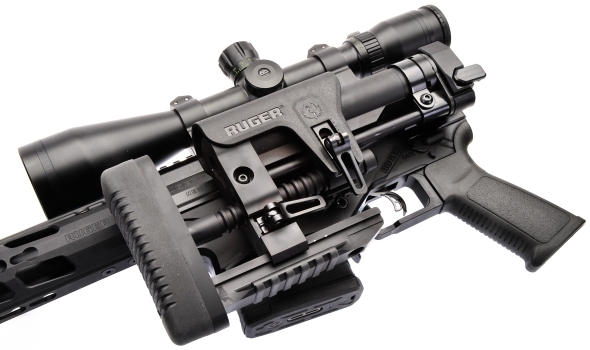 The morphing Transformer like stock remains; adjustable for pull length, cant and comb elevation. It is adjustable to fit the individual shooter as well as the circumstance. Folding reduces the overall length of the rifle for easy transport, from 39.35″ – 42.75″. For greater folding stock mechanical detail, please see prior coverage.
The short lowers… Who created the nomenclature?
While not a recoil load bearing or bedding structure within the Ruger design, the short lowers are secures longitudinally at the rear and across at the front with significant size cap screws to solidly mount the handgrip and to hold magazines. Precision machined from 7075 T-6 aluminum, the lower is type III hard coat anodized. It permits the use of any standard AR pistol grip and multiple magazine types. The rifle is supplied with two 10 round Magpul PMags, but it is also compatible with M110, SR25, DPMS, Magpul, and AICS magazines. The safety selector can be swapped to either side and it is an AR standard piece so aftermarket single and ambidextrous pieces can be substituted.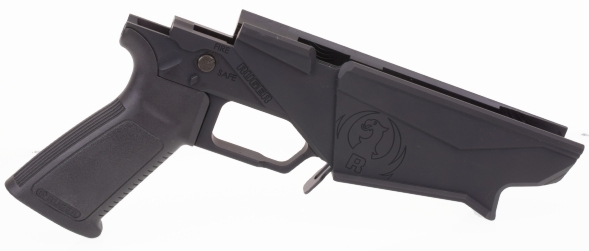 The front of the lower is truncated and formed to provide a hold or rest point of support. Since the Ruger design makes other provisions for mounting the buttstock and floating handguard, the lower could be simplified, as well as size and weight reduced.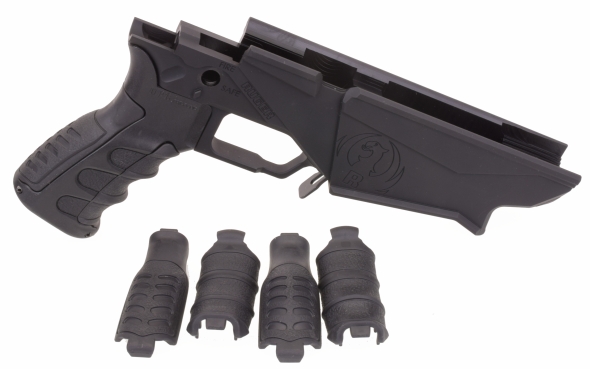 Yes, of course I buy goofy versions of AR grips and yet even they fit on the Precision Rifle. I just never know when aliens will attack and cause my body to morph in a way that changes my hand size and shape as well as my aesthetic sensibilities. This one is actually a good feeling grip.
And another thing…
As noted above, the Lower is not a "Lower" in the AR sense of the word. It is merely place to mount a pistol grip and a loaded magazine. The fully adjustable trigger is mounted to the receive and remains when the lower is removed.

The Ruger Precision Rifle is all business and not a hardware version of a video game being pushed ahead of " Bro' " marketing. Within a few days, every feature and accessory was put to use with frequency. The Ruger Precision Rifle held up well to handling, required little more than a wipe down and a bore patch to keep it going even after extensive use.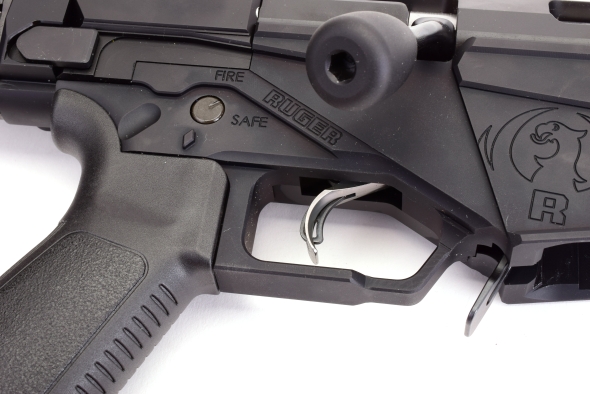 I apologize, but it will get better
The Ruger Precision Rifle is not so simple to write about. On one hand, there are too many unique and interesting engineered components and subassemblies to skip over. On the other hand, being familiar with the hardware, my first inclination was to clean off the shipping gunk and prep it for shooting, get a scope mounted, load up some ammo and see how this Ruger Precision performed.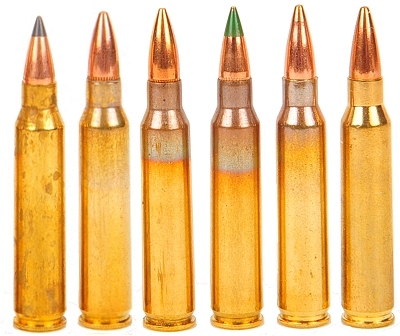 Ammunition

Cartridge

Bullet
Weight
Grains
Rated
MV FPS
Test BBL
Actual
MV FPS
20″ BBL
3 Shot
Group "
100 Yds

Federal American Eagle

223 Rem

50

3350

3235

5/8

Prvi Partizan

223 Rem

55

3248

3196

5/8

PMC X-TAC

5.56 NATO

55

3270*

3295

5/8

PMC X-TAC

5.56 NATO

62

3100*

3108

1/2

Prvi Partizan

223 Rem

69

2855

2830

1/4

Hornady

223 Rem

75

2790

2817

3/8

* 20″ test barrel – all others 24″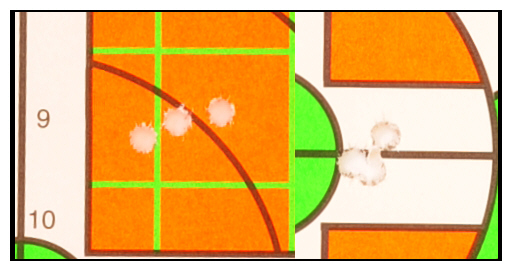 The worst and best, although 5/8″ could hardly be bad. No recoil, light and crisp trigger. The only larger groups were pilot error where I felt and saw my movement before let off and I could still anticipate where the hit would be. Clearly this is a rifle that could pop varmints all day long at a distance, make for a sensation day at the range and do more with application specific ammunition.
So with the basic hardware description out of the way, along with a factory ammo baseline, Part II is in progress, handload live fire.