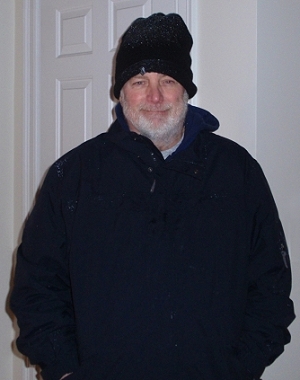 Every YouTube video seems to have the camera pointed at the narrator. Gun magazine writers pepper their journalistic works with dramatic images of themselves gazing off into the distance or holding assorted and sundry firearms. My conclusion was that I must be missing some point when I post pictures only of subject firearms and related material.
Left, I can be easily confused with every other adult male in Maine who spends a lot of time outside recovering from snow and ice storms. I was going for a, "I play the squeeze box and sing sea shanties while working on a lobster boat" theme, but I may have overshot the runway. My apologies to squeezebox playing, sea shanty singing lobstermen the world over.
In any event, this is what anyone at Real Guns must look like this time of year while conducting projects that require live fire. It is part of being prepared for multiple hundred yard forays across snow fields to place and collect targets and, yes, I am a real person.
I stopped by the Ruger Facebook page and was dismayed to see the politics of wolf packing morons had taken over many of the comment sections, driving real firearm enthusiasts off the page and away from an opportunity to learn something about Ruger firearms. I'm sure Ruger is trying to take the highroad and let people have their say, but this was mostly spoiled little boys attempting to damage good people and distract from good products. I hope it get cleaned up. With the popularity of social media, even primordial slime is coming out of the swamp to find someone else's audience.
On the Real Guns publication site, and on our Facebook presence, all we try to do is put products of interest on display for enthusiasts. We do our best to publish objective data regarding accuracy and external ballistic performance so the reader can test what we've said. No where will you find a recommendation to purchase a product. Some people want a leader to follow, to tell them what to buy, others want information so they can arrive at their own conclusions. We like to think our readers fall into the latter group and are not lining up to blindly follow a singing lobsterman.
Oh yes, the Ruger American Magnum
I've spent most of my life carrying wood stocked hunting rifles. I could not even begin to tally the hours spent making them shoot sub MOA; efforts expended on both rifle and ammunition. Most looked nice, some were exceptional; figured and colored walnut grain, hand cut checkering, glass bedding, polished blued surfaces. Even the off season maintenance ritual of cleaning up field damaged wood and metal finishes was part of the experience. I like traditions. They are reliable, they are comfortable, they are constant, they are world stabilizing
Real Guns has live fire reviewed numerous models of the Ruger American centerfire rifle; Hunting, Compact and Predator version and, now, the Ruger American Magnum, chambered for the 300 Winchester Magnum. They are all accurate, they are all inexpensive and they are all reliably durable. So I have to live with knowing my rather pricey and labor absorbing wood stocked rifles can be outshot, right out of the box, by a rifle with a $699 suggested retail price.
Ruger American Rifle Magnum

Company

Ruger

Point of Manufacture

New Hampshire, USA

Item #

16912

Type of Action

Bolt Action 3 Lug 70º Lift

Caliber*

300 Winchester Magnum

Magazine Capacity

3

Magazine Type

S

ingle Column Box Detachable

Barrel Length

24″

Barrel Material

Stainless – Hammer Forged

Barrel Finish

Natural

Rifling Twist Rate

1:10″ 6 Groove

Receiver Material

Stainless

Stock Type

Black Synthetic

Length of Pull

13.75″

Drop at comb

5/8″

Drop at heel

3/4″

Trigger Guard Material

Integral To Stock

Front Sight

N/A

Rear Sight

N/A

Scope Accommodation

Receiver Top Rail

Trigger Pull

3 To 5 Lbs

Weight of Firearm

7.5 Lbs

Overall Length

44.50″

Safety

Tang

MSRP

$699

* Also available in 7mm Remington Magnum
Sameness – Differences
The Ruger American Rifle Magnum… Seems that should read Ruger American Magnum Rifle, but I just write about them and I have my own grammar demons. The Ruger American Magnum rifle shares much in common with the non Magnum version. In fact, all of the things that make the standard American Rifle, inexpensive, very accurate and very reliable.
The stock is an active part of the Ruger design the stiffening ribs that are located throughout the stock keep it true to the hardware, but also a bit resilient. The stock helps to absorb recoil while remaining highly impact damage resistant. The barrel fully floats in the channel from receiver to forend.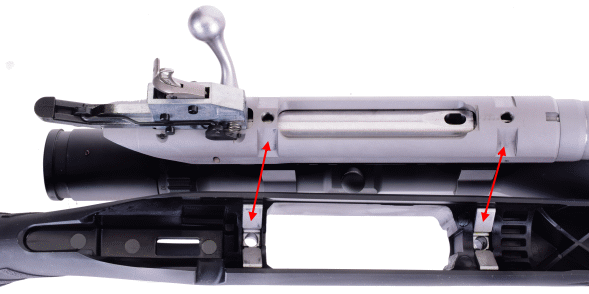 Ruger's Power Bedding®, integral bedding block system locates the receiver into position in the stock for repeatable accuracy vertically, radially and longitudinally and free-floats the barrel. Seems there should be some rudder peddles in their somewhere. In any event, the barreled action is located and clamped in a manner that insures they will always move in unison.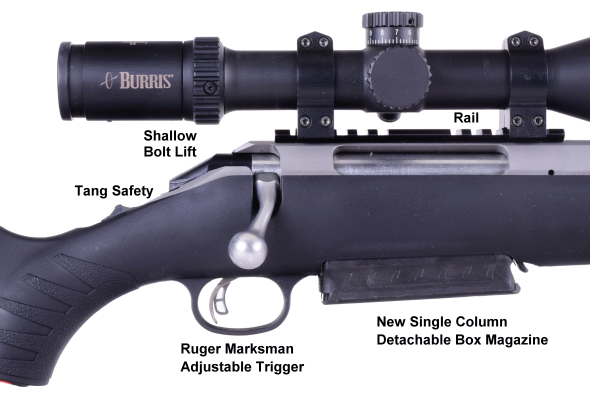 With the exception of the single stack mag, all of the other features also apply to other Ruger American models. The tang safety was very popular on early Ruger M77 rifles. Replaced by a swing safety on the M77 Mark II models and later, it returned with the Ruger American. The safety is very positive in actuation, but just a little noisy which I would attribute to the mechanical function of the safety, but more so to the resonance of the hollow synthetic stock.
The low 70º bolt handle lift is huge when it comes to scope mounting. The subject rifle worked just fine with low mount 30mm rings clamped to the rifle's scope rail. These days even low magnification scopes get very large diameter eyepiece. In the case of a conventional 90º bolt, higher mounts are required to clear the eyepiece, which lifts a scopes objective bell high off a rifle's barrel, forming an acute angle between optical center and bore centerline.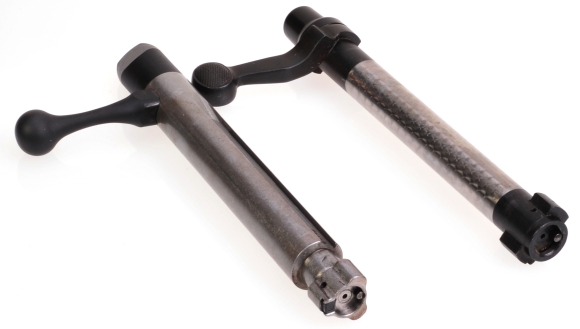 The Ruger American Rifle is push feed. I understand there may be an associated risk when attempting to discharge the firearm from an upside down and underwater position, but under any other circumstance "push" makes for a very slick and reliable feed. The American Rifle's bolt body is full diameter, which means it is as large in diameter as the span of the three locking lugs. Subsequently, the surface inside of the receiver that supports the bolt body is a full bearing surface, unbroken by locking lug key ways. The Ruger bolt body diameter is 0.850″, the diameter formed by the three locking lugs is approximately the same. A Remington Model 700 bolt diameter next to it is 0.696″ and the two lug span is 0.993″. Both use a plunger type ejector and a claw type extractor.
The Ruger Marksman Trigger is pull adjustable between 3 and 5 pounds.  Adjustment is in the face of the trigger housing. Might be nifty of Ruger would poke a hole in the wall of the magazine well so adjustment could be made my removing the magazine and not the whole stock to adjust. Throughout the live fire sessions it remained creep-free and crisp on release. Overtravel is virtually non-existent.
 The trigger release, the little hinged protuberance in the face of the trigger, provides an additional margin of safety in the event the firearm is dropped or slammed around in a fall… Like when you are out hunting and hurrying down a hill and you slip and roll a quarter mile to the bottom. You become that giant boulder in Raiders of the Lost Ark, and take out all of your hunting buddies along the way.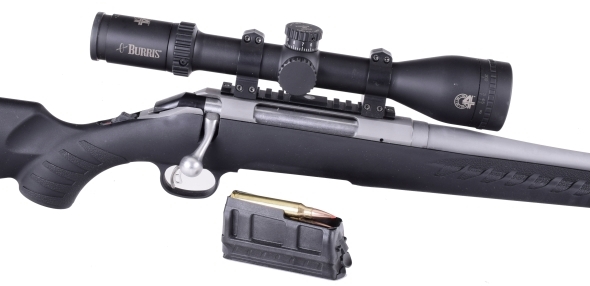 I would assume… and you know what happens when we assume, it makes an ass out of you for listening to me, the change to the centering inline magazine design versus the rotary, centering magazine used on other American Rifle Models was required because of the H&H based belt diameter; 0.513″ compared to the 0.471″ 30-06/.308 standard. I am as ambivalent as much as I am Italian; holds enough ammo, doesn't get in the way and it offers positive feed. I am pausing, waiting for the cry of the loon who demands AR compatibility and 30 round capacity.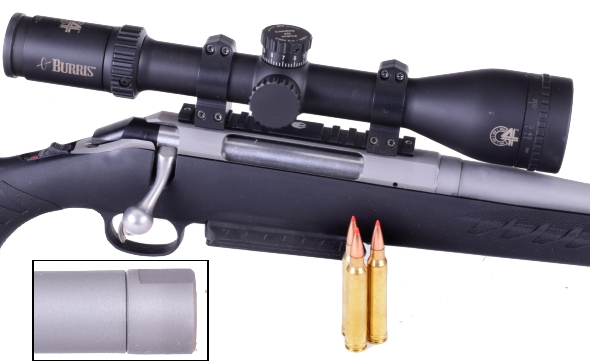 I know the picture above may seem to be… photo redundancy, but it is not. Note the cleverly displayed three rounds to subliminally suggest magazine capacity and the thread protector inset that shows the muzzle end of the rifle which was too long to crowd into a useful horizontal image. While not included with the American rifle, the 5/8″x24 threads will mount just about and muzzle brake or suppressor like the More importantly, the is the segue into the 300 Winchester Magnum segment.
The 300 Winchester Magnum – When 1963 met 2016
The 300 Win Mag is a powerful 30 caliber magnum. More than enough for whatever roams the Americas and for under the $700 MSRP price tag. With factory ammo bullet weights ranging from 150 grains to 240 grains, available for many types of hunting and competitive target shooting the combination of American Rifle and 300 Win mag is a really useful combination.
Ammunition

Bullet
Weight
Grains
Muzzle
Velocity
FPS
Muzzle
Energy
Ft/Lbs
100 Yard
3 Shot
Group "
Hornady Superformance SST
180
3142
3947
0.7
Remington Core-Lokt
150
3287
3600
0.4
Hornady Superformance 180 Grain SST & Ruger American Rifle Magnum

Range

0

50

100

150

200

250

300

350

400

450

500

Velocity -fps

3142

3054

2967

2882

2798

2716

2635

2556

2478

2402

2326

Energy -ft.-lbs.

3945

3726

3518

3319

3129

2948

2775

2610

2454

2305

2163

Momentum -lbs-sec

2.50

2.43

2.36

2.30

2.23

2.16

2.10

2.04

1.97

1.91

1.85

Path – in.

-1.5

0.9

2.5

3.0

2.5

0.8

-1.9

-6.0

-11.4

-18.2

-26.5

Time offlight – sec.

0.0

0.0

0.1

0.1

0.2

0.3

0.3

0.4

0.4

0.5

0.6
What makes the 180 grain SST load so exceptional is high sectional density and high ballistic coefficient. This results in this ammo, in concert with the Ruger American Rifle, having a 315 yard point blank range with a +3 ordinate and only an 11″ hold over out to 400 yards.
The 180 grain SST has a BC of 0.560. The 150 grain PSP Core-Lokt's BC is only 0.320. By the 150 yard marker, the 180 grain bullet is traveling faster than the 150 grain, dropping faster and holding onto less kinetic energy. At 500 yards the 189 grain is traveling over 400 fps faster, holding over 900 ft-lbs more energy and dropping 5″ less. So the 300 Win mag is not a cartridge that heavy bullets turn into a softball pitch. Looking at the power, the durable rifle and the terrific accuracy, the Ruger American Rifle Magnum is quite a value.
I think we'll take a break, clear a couple of other projects, then return with some handload data based on different component combinations for this combination. In the mean time, terrific new rifle from Ruger. Certainly worth checking out.