Ruger introduced its American Rifle product line January, 2013 as high performance centerfire rifles with modest price tags. Carrying forward design elements and styling from the centerfire model, Ruger introduced a rimfire version in August, 2013. The subject Target model was introduced in December, 2016.
Ruger's American Rimfire® Target

Manufacturer
Ruger
Point of Origin

Mayodan, NC

Model

8349

Type Action

Bolt Action – 60° Lift

Caliber*

.22 WMR

Magazine Capacity

9
Barrel Length

18″

Twist

1:14″ 6 Groove RH

Muzzle Thread
1/2″-28

Metal Finish

Satin Blue
Sights
None – Scope Base

Scope Mount

Picatinny Rail

Stocks

Black Laminate

Pull Length

13.75″

Overall Length
37

"

Weight
6.7

Lbs

Safety

Tang – 2 Position

MSRP

$4

99

* Also available in 22 LR & 17 HMR
The Ruger American Rimfire is currently available in fur distinct configurations" Standard, Woodstock, Compact, and Target. All models share some features that essentially define the Ruger American product line:
All models feature the Ruger Power Bedding® system where a metal bedding block integrated into the stock precisely keys to corresponding locating slots in the receiver and the barrel floats its full length.
All models feature the refined Ruger Marksman Adjustable trigger with passive sear blocking safety. The pull is crisp and adjustable between 3 and 5 pounds. All American models utilize a positive actuating tang safety.
All models feature an extended magazine release and flush mounted magazines. 22 Long Rifle magazines are the same as the very popular Ruger 10/22. All models chambered for the 22 Magnum or 17 HMR utilize the Ruger JMX 1 flush mounted 9 round magazine.
All Ruger American Rimfire rifles feature a 60° bolt lift which permits low scope mounting. The bolt is released from the rifle's receiver by depressing its bolt stop, pulling the trigger is not required for removal.
Target Model features

While all Ruger American Rimfire rifles are fitted with precision cold hammer forged barrels, the Target model barrel is heavy 18″, 0.860″ profile and it is threaded to accept muzzle devices.
While all Ruger American Rimfire rifle receiver tops have a 3/8″ groove to accept rimfire scope rings and mount bases and are drilled and tapped to accommodate additional ring and base systems, the Target model goes one step further by including a scope mounting Picatinny rail.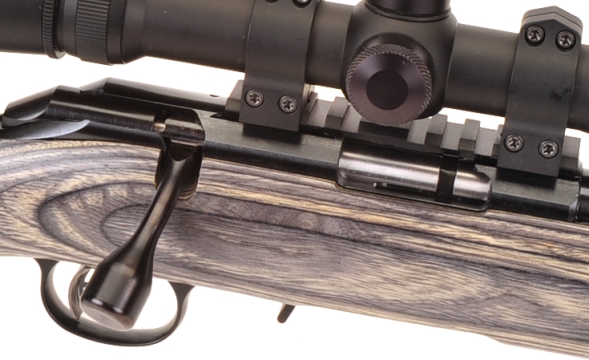 The Ruger American Rifle is supplied with a very stable and substantial Black laminate stock… The "B" in "Black" is capitalized because it is Ruger nomenclature, not the actual color of the stock. The good looking stock is actually layered hardwood, dyed in tones ranging from beige and light gray to black as pictured.

Ruger states the American Rimfire has an Alexander Henry forend and advances the notion that this is intended to steady aim when shooting off of sticks or using a bipod. I will remain unconvinced, but open minded, awaiting a historical cite from the 1800's that stipulate this purpose. In the mean time, I think the little sculptured cuts are a nice aesthetic touch and thank Ruger for including swivel studs.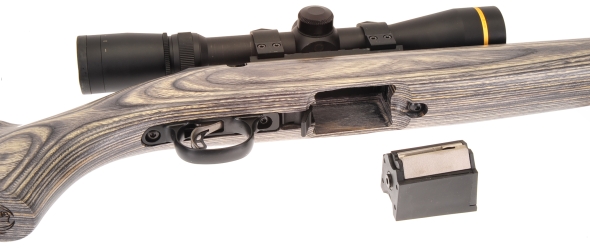 The Ruger American Rimfire is fed from a flush fitting Ruger rotary magazine that holds nine rounds. The detachable magazine approach, especially Ruger's rotary type is a useful feature. Even within the confines of this project, I was able to load up a few magazines, each with a different type of ammo, shooting through the chronograph, shooting at targets and plinking, swapping magazines as required.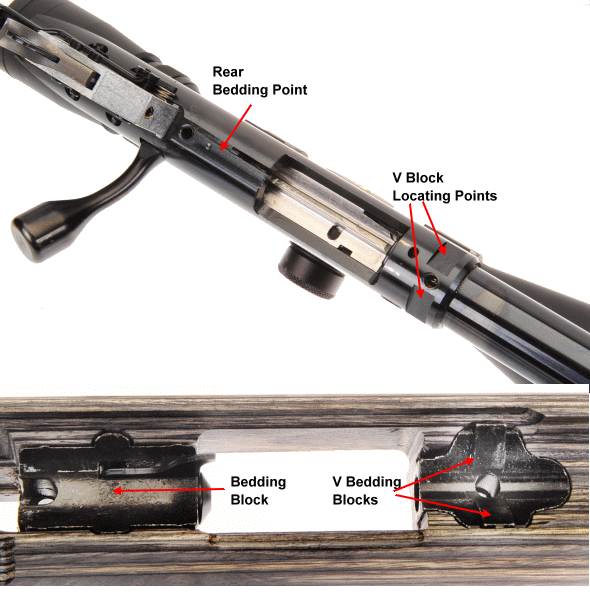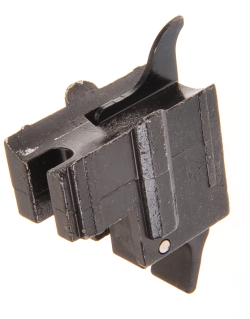 The Ruger Power Bedding® system exists in a couple of forms, one for wood and laminated stocks, one for synthetic stocks. The wood and laminated stock bedding blocks are large casting, like the rear block pictured left, intended to anchor firmly while spreading loads over large surface areas. The rear block is also home to the rifle's ejector and magazine release.
Based on relatively extensive experience with most versions of the Ruger American Rimfire rifle, either version of the bedding system works. Between the system that locates the barreled action securely to the stock and the floating barrel, the products are exceptionally accurate and they are consistently so over the long haul.
The threaded muzzle is not just for show. While the sonic crack is not going to go away, the compact Ruger Silent-SR can cut report by 40db, enough to get an expression of thanks from neighbors and ears, both left and right… neighbors and ears.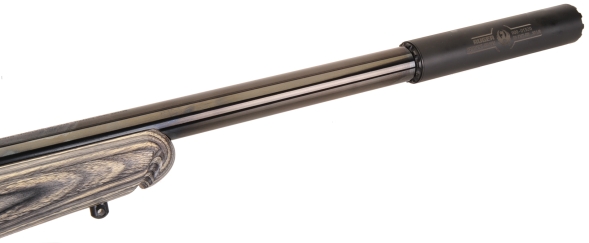 Springtime in Maine and live fire….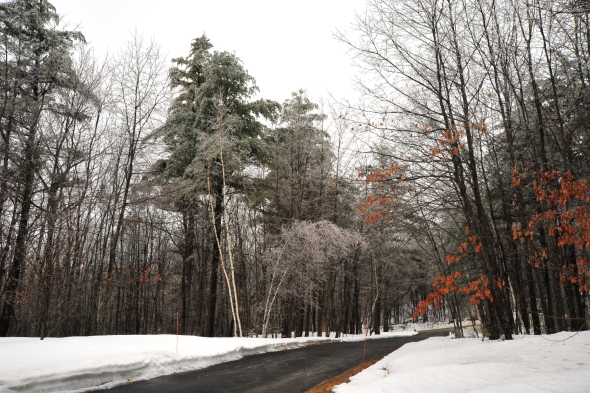 These were the conditions when shooting for accuracy and collecting chronograph data. Hard to see; the tree trunks and limbs are encased in ice, temps are below freezing, but snow fields have begun receding. Sort of like Norway, but without Ringnes beer.
Three common types of 22 Magnum ammunition were run through the American, both unsuppressed and suppressed, configured with Ruger's Silent-SR Sound Suppressor. There are a variety of silencers in the shop, however, for rimfire applications the Ruger has proven to be the most efficient and the most sound pressure reducing.

Appearing on table below in order presented left to right above. I don't try to explain chronograph results, I just record them and make sure the reading isn't ejecta blowing through the screens, a tilted frame or an out of calibration chronograph. The results were repeatable and accuracy was statistically the same suppressed or unsuppressed and even point of impact barely shifted between the two conditions.
Ammunition

Bullet
Weight
Grains
Rated FPS
24″ Barrel
Actual FPS
18″ Barrel
Unsuppressed
Actual FPS
18″ Barrel
Suppressed
3 Shot
Group "
100 YD

CCI Game Point
40
1875
2075

2116

0.9

Hornady V-Max
30
2200
2300

2338

1.1

Winchester Super X
28
2200
2357

2275

1.3
I suppose I could have shot at 50 yards and made impressive tiny holes, but for folks experienced with the 22 magnum, it puts long enough legs on the 22 LR to shoot routinely at 100 yards. In my experience across a good number of firearm brands, outside of Internet social media group groping, the Ruger American's performance is very good.
Conclusions without jumping…
The Ruger American Rimfire target is a lot of fun to shoot. Ammo is inexpensive or expensive depending on your frame of reference and wallet size, but typically between 19¢ and 30¢ for reasonable plinking and hunting ammunition. Unless field mice safaris are in the schedule, accuracy is more than enough for small game and smaller medium game out to a hundred yards. The rifle's price is a value considering quality and performance and I can't see it wearing out any time soon. I will close on a really poorly composed photograph, only because it puts the rifle's name in frame.
Real Guns – Ruger's New American Rimfire Rifles
Real Guns – Ruger's American Rimfire
Real Guns – The Ruger Silent-SR'd American Rimfire Part I
Real Guns – The Ruger Silent-SR'd American Rimfire Part II